Looks like that briefcase full of cocaine "hernia" won't prevent Charlie Sheen from returning to work on Two and a Half Men next week. So, why is he getting his 400th media pass while Lindsay Lohan's ruined her career forever?
In recent years no stars (with the possible exception of the oddly lovable Celebrity Rehab cast members) have had their problems with addiction more publicized than Charlie and Lindsay. However, the way these stars are treated by the media and the public is vastly different, mainly due to the double standard for female celebrities. Lindsay has recently completed court-ordered rehab and seems to be staying sober, but she's still invariable referred to as "the troubled starlet" in tabloid reports. Most articles imply that it's only a matter of time before she's spotted with a bottle in her hand or caught passed out in someone's car again.
Meanwhile, Charlie's well-known drug problem appears to be growing worse. That is, unless you believe his rep's ludicrous medical explanations for his behavior, including the hernia story and the claim that he trashed a room at New York's Plaza Hotel in October due to "an adverse allergic reaction to some medication." Most stories about Charlie include the euphemism "he loves to party!" And who doesn't? It's every man's dream to have a boozy orgy in the Hugh Hefner Sky Villa in Las Vegas, right? He's just a lovable bad bad boy, not some entitled starlet who does coke!
The scorn for Lindsay is particularly strange because compared to Charlie, she's only hurting herself. Let's review some of Lindsay's biggest tabloid scandals: Two DUI arrests, four stays in rehab, missing numerous court hearings, going to jail for failing a drug test, battling bulimia, battling her father, and breaking up with her girlfriend. As for Charlie, he's been in and out of rehab for years, he "accidentally" shot fiancee Kelly Preston in the arm, he was named as a frequent visitor to brothels owned by Heidi Fleiss, he's dated numerous porn stars, he ODed on cocaine, allegedly shoved Denise Richards and verbally abused her during their marriage, and was arrested for domestic violence against Brooke Mueller, but avoided jail time due to a plea deal. Lindsay has never been married and has no children. Charlie has been married three times and has five kids, four of whom are under the age of 10.
Yet, reporters overlook Charlie's disturbing rap sheet to the point that he was once asked to give Lindsay advice on surviving addiction. In this September 30, 2010 interview with Radar Online, Charlie declares, "People just need to leave her alone and let her do her thing." After he dispenses a few other platitudes, the conversation quickly moves on to congratulating Charlie on the success of Two and a Half Men, teasing him about his "Teflon Charlie" nickname, and joking about him being "wild."
Average people seem more sympathetic to his drug issues too, according to our highly-scientific survey of comments on gossip websites. On Us Weekly's website, for example, a few commenters wish Lindsay well or joke that Charlie's "liver wants out," but generally people are much more hateful toward Lindsay. Here's a sampling of the comments from the mag's September 18, 2010 article "Lindsay Lohan Confesses: I Failed A Drug Test":
I'm sorry, someone trying to take it serious would not be going to places where drugs & booze are the mainstay of the place. What a dumb fck head. The stupid ass4oles in her rehab must feel like retards for going to bat for her, sugar coating her issues and allowing her to go free months before she should of been released from rehab.
what is the point... is she helpless. She needs good help, and a role model. Her parents are horrible people.
So first it was nuts and now she confesses? Substance abuse truly is a disease, but I don't think Lindsay has any problem other than her own irresponsibility. Calling her a drug addict is making a worse name for everyone that truly does have that disease. She just needs to grow up.
"poor me, it's a disease" your not acting right now, either try and get clean or go somewhere where the cameras wont follow you and leave the spotlight alone!
She thanks her fans? Which fans? People are laughing about her, she flyed so high, like, i can do whatever i want i am a big star. Now you are just a drug addict and a big looser! She is not taking responsibility for her actions, shes will be begging for forgivnes. Shes just a rich spoiled hollywood hasbeen! nobody will give her work again. People are over her! Linsanity, if you want to show that you are not just a selfish rich spoiled brat, go to afrika or pakistan to show that you not just care about yourself, cause there you can see that your life is worthless and a big joke
G/O Media may get a commission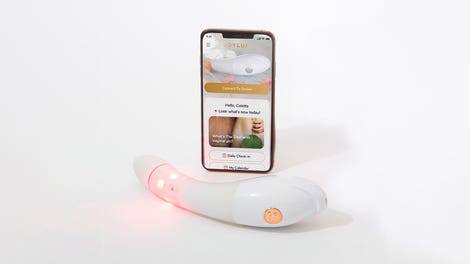 $50 Off
Joylux vFit Gold Device
Here are some responses to a report Us ran yesterday titled, "Charlie Sheen Rushed To Hospital":
poor guy. I really hope he gets better. his life is at risk. I don't understand the sympathy lindsay gets while Charlie is the sole person to blame. He needs to ditch his enablers get rid of people who want his $$$. Both need help.
@Kelly - lol! I thought the same thing, really? I don't like him anymore, oddly reminds me of my ex, but I do pray he gets a wake up call and some real help.
im so so sad about this news.. i like charlie a lot.. hope he gets well...
i hope he get's to feeling better n tries to live a healthier life!
There are other factors at work here aside from gender. Lindsay is younger, her career isn't as well-established, and she has a reputation for failing to show up to work (mainly due to incidents during the filming of Georgia Rule, which was released in 2007). Despite his constant "partying," Charlie's usually able to pull himself together and make it to the set of Two and a Half Men, as he'll do next week (conveniently, the show was on hiatus this week). And don't forget the money angle. Two and a Half Men is the most-watched comedy on on TV, and Forbes reports every episode makes about $3.1 million in ad revenue. The show can't go on with one less "man," so if Charlie decides to spend a few months in rehab, dozens of people lose their paycheck. For comparison, when Lindsay was jailed and then sent to rehab, her role in the Linda Lovelace biopic Inferno just went to another actress.
But the most important difference between the two stars is that Lindsay is a woman and Charlie is a man. Though she's 24 years old, Lindsay is seen as a spoiled, bratty teenager whose parents should rein her in. She was supposed to stay a sweet and virginal (yet sexy) child star and Good Role Model. Nice girls don't drink too much, pose nude, or fall in love with other women. If her relationship with Samantha Ronson didn't work, it's probably because she was too crazy and needy.
On the other hand, Charlie is an adult man who mainly terrorizes women who work in the sex industry, and we all know they don't count as people. He may have held a knife to his wife's throat, but she isn't famous, so who cares? He probably doesn't take care of his four small children, but that's their mother's job anyway. The gender issue here goes beyond male stars being allowed to behave badly while female stars can't. In addition to himself, Charlie is only hurting women and children, but society is pretty much okay with that.
Today, a friend of Charlie's told People:
He loves the attention, he loves to shock people, he loves that he gets away with all of this. And he can because there are no consequences – that's the problem. It's who he is, like it or leave it. Maybe at 22, you're with five hookers, so what? But when you're his age and a father, it's just ridiculous.
The problem isn't just that Charlie doesn't see his behavior as ridiculous — few addicts do. It's that there will never be any consequences for him because he's just a guy who likes to have a little fun. There will probably never be a moment when he realizes he needs to get help, and addiction may take his life. But until then, if studio executives keep making money and it's mainly women getting hurt along the way, who really cares?
EXCLUSIVE VIDEO INTERVIEW:Charlie Sheen Tells LindsayLohan Rehab 'Not Easy' [Radar]
Lindsay Lohan Confesses: I Failed A Drug Test [Us Weekly]
Charlie Sheen Rushed To Hospital [Us Weekly]
Charlie Sheen 'Doesn't Think He's Going to Die,' Says Friend [People]