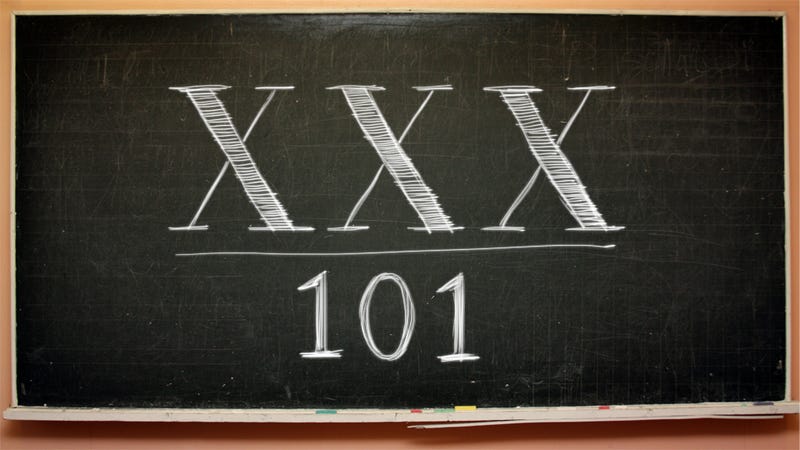 Forget student debt; some concerned citizens think the real problem plaguing undergrads today is the "porn curriculum" currently infiltrating mainstream colleges like dildo-wielding guerrilla combatants.
TheBlaze is all aflutter about a "fascinating new report" from World on Campus covering the "phenomenon" of "porn curriculum":
The term refers to explicit material that is making its way into America's college and university classrooms. While the notion may seem too bizarre to be true, some experts claim that there is, indeed, an influx of pornography being integrated into secular professors' curricula.
An influx?! To think we were once worried about an anthrax outbreak. Yep, cover your eyes and ears, folks: some students at NYU have read pornographic comic books for a course called "Anthropology of the Unconscious." (Gasp!) Bates has offered a class called "Doing it, Getting it, Seeing it, Reading it," which focuses on the difference between erotica and pornography. Wesleyan, never a college to be outdone in terms of subversiveness, once offered a course called "Pornography: Writings of Prostitutes" which asked students to make and thoughtfully explain their own pornography projects for the final. As a result, everyone in Middletown, Connecticut now has AIDS and approximately six abortions per year.
Sorry, conservatives, but you can't blame Obama for the "porn curriculum": people have been freaking out about X-rated college classes for over a decade. A 2006 Time piece even references some of the same courses as does this "fascinating new report." Of course, that doesn't stop people like Rick Schatz, President and CEO of PUREHOPE (can hope be unpure?), an organization "dedicated to fighting sexual exploitation and brokenness" (aka broken hymens), from claiming that these classes have no merit. "Instead of actually studying the legal, political and moral issues associated with porn, the vast majority of these courses are validating it and showing addictive pornography to students, even requiring them to produce it," he said. "There's absolutely no academic basis for that type of course."
Um, there's "no academic basis" for studying pornography? That's total bullshit. Porn affects economics: it's a multi-billion dollar industry. Porn affects politics and the law: Los Angeles just voted to require actors to use condoms when filming sex scenes. Ever hear of/see queer and feminist porn? If not, that's a shame, and why porn affects LGBTQ and gender studies.
"...evangelical anti-porn groups and Christian scholars believe that the porn industry can be explored and analyzed without simply making young people comfortable with the explicit and potentially-addicting imagery that is presented," says TheBlaze. Because the last time we let religious extremists shape sex education policy it worked out so well for us; just ask all of the pregnant teenagers who had to sit through abstinence-only classes.
College students are adults and, like it or not, pornography is a part of our culture. You can't "explore and analyze" an issue without primary sources; would you expect English majors to make up stories about whales instead of reading Moby Dick, or tell future neuroscientists to play fruit fly charades instead of actually studying insects under a microscope?
One more thing: many examples of "porn curriculum" don't even constitute porn, they just involve naked people having the sex. For example, TheBlaze references a Fresno State public health professor who once showed a "sexually explicit" video in a human sexuality class. This is a description of the video:
Making love is an art much like painting. Some couples use only primary colors, but when you use an entire palette, your sex life becomes a vibrant and thrilling adventure. Join some of the world's leading experts as they help you become an artful and irresistible lover. Attractive real life couples explicitly demonstrate adventurous new techniques. Discover uninhibited positions that lead to pleasure, satisfaction, and closeness for a lifetime. Learn how sensual massage and erotic talk can enhance your intimacy and sexual pleasure. Watch together and bring your love life to new heights of sexual intensity.
Cheesy? Perhaps. (I don't like to envision Bob Ross when thinking about sex, but hey, to each her own.) Awesomely sex-positive? Absolutely. Imagine taking a human sexuality class and actually learning some helpful strategies for making sex into something that's not scary — that would go against everything you learned in high school.
According to TheBlaze, some critics believe that "requiring students to view and become comfortable with pornographic content in the classroom cannot be done without the exploitation and degradation of those involved." Sure, we'll concede that there are enough reasons not to mandate that all students everywhere watch hours of porn as a basic freshman requirement. But we also can't effectively criticize the problematic aspects of pornography if we don't study the theory and history behind the industry. So let's stop getting our panties in a twist about the "porn curriculum" and call it what it is: real talk.