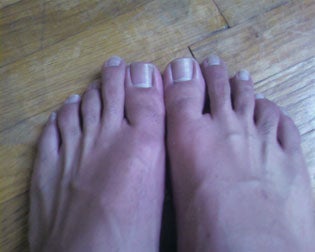 Because the new Glamour dating blogger (also known as 'Edgy English Teacher') got a pedicure! His mother made him do it. But he's conflicted. "Am I too metrosexualphobic?" Well, maybe kinda? Replies former Glamour dating blogger (and onetime Cherico fuckbuddy) Alyssa Shelasky in the comments:
Cute that you went w/ you mom. BUT I'd never date a guy who got pedis. That's what I'd call a major ITO (Instant Turn Off). But love you anyways.
Aw. We're so glad that Alyssa, who gave birth to this blog and is its rightful mother, is allowed to stay on and nurture metro Mike. It's almost like he has two mommies! After the jump, a picture we took of our feet, to represent, you know, the imagined" before" shot.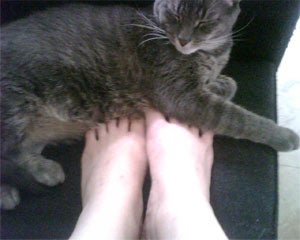 Yeah, sorry. Even the cat was all "put that shit away!"
Be A Man [Glamour]