Should anyone take responsibility for the death of Jacintha Saldanha, the British nurse who killed herself after she was duped into sharing Kate Middleton's private medical records by two Australian radio DJs impersonating Queen Elizabeth and Prince Charles? Not exactly. But it's telling how our culture lusts after exclusive celebrity gossip until someone crosses the line; the radio station wouldn't regret the prank at all if the nurse hadn't died.
Until today, Southern Cross Austereo, which owns 2Day FM, the radio station behind the royal prank, had supported prankster DJs Mel Greig and Michael Christian, who claimed they had no idea the fallout would have such tragic consequences. This morning, however, the company issued a statement announcing that it was terminating the show ("Hot 30") and ordering "a company-wide suspension of 'prank' calls."
This was a smart move for Southern Cross Austereo, which says it's confident the prank didn't break any laws — its lawyers vetted the segment before it aired — but has a history of even more egregious "jokes," one of which involved tricking a 14-year-old survivor of sexual assault into talking about her "sex life" on air.
But the DJs, Mel Greig and Michael Christian, don't think they should be reprimanded for what they keep describing as a "harmless" prank. In an interview with Nine network's A Current Affair, both seemed genuinely shocked by Saldanha's suicide; Christian said they were "shattered," and Greig said "There's not a minute that goes by that I don't think about what [Saldanha's] family is going through and the thought that we may have contributed to it is gut-wrenching."
G/O Media may get a commission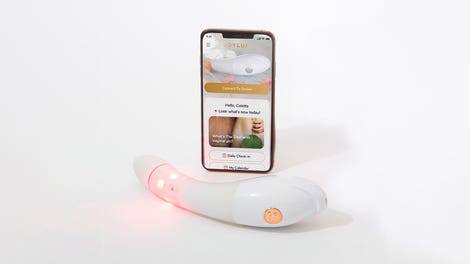 $50 Off
Joylux vFit Gold Device
Still, they said they didn't see how her death was directly related to their phone call. Here's how they described the planning process:
"We had the idea for a simple harmless call. A call that would go for 30 seconds that we thought we would be hung up on," said Christian. Neither expected their call to be put through to the Duchess of Cambridge's room.
That's probably true. But that's not what happened. The call did go through, and the DJs obtained Middleton's private medical information, and they broadcast said private medical information. The call wasn't live; it was pre-recorded. That's not the same as asking if someone's refrigerator is running. It's more like calling up someone's bank and impersonating them in hopes of gaining access to their checking account. It doesn't matter if they thought they were going to be hung up on; they weren't, much to their delight.
The DJs also blamed "the media" in general:
Christian and Greig said they thought the joke was on them and their poor accents rather than on the nurses.

"Every other media outlet wanted to touch on it. Our angle was having those silly accents," said Grieg.
Again: the joke would've been on them if they had called once, made some dumb jokes about the royal family in a posh accent, and that was the end of it. But the "silly accents" worked.
Like the station, Christian and Greig keep insisting that no one could've expected such a horrific outcome:
They reiterated that no one could have expected or foreseen what happened after the call. "At every single point it was innocent on our behalf. It was something that was funny and lighthearted and a tragic turn of events that I don't think could have predicted," said Christian.
They're right: no one could've predicted that the nurse would kill herself as a result of their prank, and it's not their fault that she did; Saldanha clearly had other issues that drove her to commit suicide, even if the call was the catalyst.
They're also probably correct in thinking that no one would've cared about the prank if Saldanha hadn't died. Well, they didn't come right out and say that, but that's what's implied when you throw around the words "harmless" and "innocent." Our culture rewards exclusive celebrity scoops with money and fame. We have little respect for famous people and therefore will do whatever it takes to glean information from them, whether that means chasing them down the street or stealing their trash or prank phone calling them when they're sick in the hospital.
And the DJs didn't care about the repercussions of the prank before the nurse killed herself, either; Greig previously humble-bragged about her coup on Facebook, writing "Why is it that I can impersonate the queen to get private royal information but no one believes I'm the queen for a free champagne whilst out?"
The DJ's superiors are also at fault, and equally obnoxious about refusing to take any blame; here's what CEO Rhys Holleran had to say when critics asked why the station attempted to contact the hospital "no less than five times" before broadcasting the pre-recorded spot:
"We rang them to discuss what we had recorded," he said, adding that this was done before the recorded prank went to air. "Absolutely. We attempted to contact them on no less than five occasions. We wanted to speak to them about it."
Oh, because they were concerned about broadcasting someone's medical information on air? Or because they wanted to elicit more scandalous/exclusive info? We'd bank on the latter.
None of these people and/or entities — the DJs, their bosses, the media at large and the people who eagerly soak up celebrity gossip like it's the elixir of life — should be blamed for Saldanha's death. But the DJs and their station should take responsibility for contributing to the same culture that congratulated them for obtaining Middleton's private medical records by impersonating her family members. And the rest of us might want to take a little time to question why we're so horrified by the fallout here. Is our obsession with the personal lives of celebrities only gross if it becomes a matter of life or death?
[TMZ]
[The Guardian]