Whoopi Goldberg doesn't think Stephen A. Smith said anything wrong.
On Monday's episode of The View, Goldberg staunchly defended Smith's comments about the domestic violence incident involving Ray Rice and his then-fiancée. For those who need a reminder, Rice violently beat Janay Palmer and was captured on video dragging her, unconscious, out of an elevator. Smith shared some mindlessly stupid opinions about the incident on ESPN, mostly that women somehow have a responsibility to avoid getting the shit beat out of them by men. On Monday, Smith publicly apologized for being a braying asshole and the story was mostly over (except for the part where people are wondering why the fuck ESPN employs such pro-NFL anti-women idiots. But OK).
That all might be the end of it, but now of course is the time for random celebrities like Goldberg to chime in with their opinions about the story. Via Mediaite, here's what happened on Monday's show.
Smith had said late last week that women should not to anything to "provoke" men into striking them. Goldberg agreed with this point and cried, "If you hit somebody, you cannot be sure you are not going to get hit back!"

Jenny McCarthy and guest co-host Sunny Hostin pushed back against Goldberg's argument, with Hostin telling Goldberg she's blaming the victim. Goldberg insisted she wasn't, saying no one should hit anyone, period. However: "If you make the choice as a woman who's four foot three and you decide to hit a guy who's six feet tall and you're the last thing he wants to deal with that day and he hits you back, you cannot be surprised!"
G/O Media may get a commission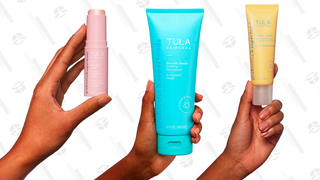 Here's the full video below, via The Wrap.
Image via Getty Images.