Online backlash prompted Forever 21 to pull a listing from its website that featured a white model wearing a "Wakanda Forever" sweater, a reference to the fictional African nation from the movie Black Panther. But maybe this—I don't know, I'm spitballing here—isn't actually a huge deal at all.
In a statement to the Hollywood Reporter, Forever 21 said, "Forever 21 takes feedback on our products and marketing extremely seriously. We celebrate all superheroes with many different models of various ethnicities and apologize if the photo in question was offensive in any way."
Forever 21's decision to put a blue eyed, blond haired white man in a Black Panther sweater is an example of short sightedness at worst, kind of funny at best. Of all the Forever 21 models they could have chosen to wear merchandise from a film that was regarded as—for lack of a better phrase—a very black moment, they decided to go with this guy. Not even a racially ambiguous model! Not even a spicy white! This guy!
It's kind of funny. It's a thing you roll your eyes at. It's a thing that's a little goofy on the optics front, but is ultimately harmless, because at the end of the day it's a person wearing a sweater inspired by an immensely successful superhero franchise.
Here's what it's not: Offensive.
But to take offense to this is natural for those who insist on treating Black Panther like it's a part of the Civil Rights Movement instead of a Marvel movie.
G/O Media may get a commission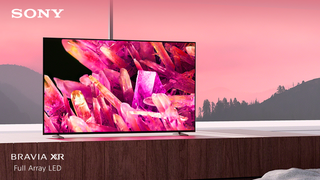 $400 off
Sony 55 Inch 4K Ultra HD TV X90K Series
Make no mistake: This is not to reduce the inspiring vision of Black Panther director Ryan Coogler, or how refreshing it was to see a majority black cast in a superhero movie, or the significance of the film exposing a mainstream audience to concepts of colonization and black power, or how mind-numbingly hot M'Baku was.
But I'd suggest that anyone who is taking true offense at this sweater drama is projecting their identity and politics onto the Black Panther franchise a little too strongly. This is almost as absurd as the debate over whether a white child can wear a Black Panther Halloween costume. Can we please keep this brand of performative nonsense in 2018?