White House party crashers Tareq and Michaele Salahi went on the Today Show this morning to claim they were actually invited to last week's state dinner. Unsurprisingly, the White House and Secret Service disagree.
In the clip above, Tareq Salahi tells Matt Lauer that he and his wife were not crashers, and that they've "been misrepresented by the media and other paparazzi forums." (Paparazzi forums?) The curiously blank-faced Michaele Salahi claims that their lives have been destroyed by the experience — she says, "everything we worked for, Matt. For me, 44 years, just destroyed." It's an interesting statement, given that the Salahis' stunt has actually given them the national fame they apparently craved — but of course, they swear it wasn't a stunt at all. The pair say they're not at liberty to discuss how they were actually invited to the state dinner, so their current evidence for their innocence is the lame assertion that "no one" would try to crash a party at the White House. Michaele confusingly explains, "the White House, it is the house, and no one would do that." (Irony alert: Tareq also claims, "Our homes have been invaded.") Then they say some vague shit about how they're "working with the Secret Service" and finish up with the claim that they'll soon be "completely exonerated."
Of course, pretty much everyone else involved is sticking to the story that the Salahis are complete charlatans. They mention emails that will exonerate them — their correspondent in these emails may be Michele Jones, special assistant to the secretary of defense, who says she actually told them they weren't invited. Jones elaborates,
I did not state at any time, or imply that I had tickets for ANY portion of the evening's events. I specifically stated that they did not have tickets and in fact that I did not have the authority to authorize attendance, admittance or access to any part of the evening's activities. Even though I informed them of this, they still decided to come.
G/O Media may get a commission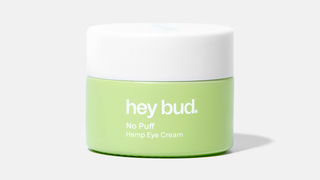 15% off
Hey Bud - No Puff Hemp Eye Cream
White House spokesman Robert Gibbs also disputes the Salahis' version of events, telling Meredith Vieira that "this wasn't a misunderstanding," Gibbs said. "You don't show up at the White House as a misunderstanding." Furthermore, Gibbs says both Barack and Michelle Obama are angry about the Salahis' unauthorized attendance. Though some blame social secretary Desiree Rogers for not posting a representative from her office at the White House East Gate, Gibbs points out that the Secret Service could easily have checked with the social office about guests, and did not do so. He says,
I appreciate the observation that somebody could or could not have been at a certain gate. But again, you could pick up the phone…You don't have to be standing in my office for me to convey information to you.
In a teaser for the Today appearance, Tareq Salahi says "the truth will soon come out." But at least for now, the truth appears to be that White House security procedures were lax enough to allow a couple who had been specifically told they weren't invited to attend a state dinner and shake hands with the President. It's worth asking whether Michele Jones knew about the Salahis' history — they reportedly previously crashed the Congressional Black Caucus Foundation Dinner, though of course they claim they were also invited to that — and whether she ought to have informed the Secret Service that they were trying to finagle their way in. But whatever Jones's involvement, the fact remains that everyone in America is lucky that the Salahis were simply fame-whores with no more serious plans than getting on a reality show. While their inarticulate performance on Today and their ludicrous past — maybe we should all check out family albums to make sure they didn't crash our parties — are amusing, the fact remains that they committed a very serious security breach. It's no wonder the Adminstration is angry.
Salahis: "We Were Invited, Not Crashers" [MSNBC]
Salahis Sought Gala Access Through A Pentagon Door [Washington Post]
Breach Ups Scrutiny On Social Office [Politico]
Have Salahis Done This Before? [Politico]
On NBC, Virginia Couple Denies Crashing State Dinner [USA Today]