Hey lady friends, have you ever sat through a "bromance" film like Knocked Up or The Hangover and thought, "Wow, I totally relate to the women in this film!" No? Not ever? Well let's take a quiz about it anyway!
Question 1: Where Is Your Boyfriend/Husband/Fiance Right Now?
a. He's right here on the couch next to me, where he belongs, because true love means forcing your boyfriend to sit on the couch and take quizzes with you.
b. He's off doing something that I'm sure is very important...to him. In the meantime I think I'll spend some purely platonic time with this stranger I just met who seems to have a great outlook on life.
c. Who knows? Probably screwing up somewhere, because all men are stupid and they ruin everything and can't grow up or do anything right. He is so below me. Why do I even bother?
d. I don't have a boyfriend, I just know this guy and we like to have adventures, man. Putting labels on things just takes the magic out of it. I learned that from this band we both like a lot.
e. I just like to have a lot of sex with everyone, with no strings attached. Isn't that crazy? A sexually active woman? I know! It's like, who do I think I am, a guy or something? Crazy!
f. Golly, I hope he's getting ready for our wedding. We're getting married! It's going to be the best day of our lives.
Question 2: Your boyfriend/fiance/husband wants to go away with his boys for the weekend. Do you trust him?
a. He's not going anywhere.
b. I mean, sure. Yeah. Well...yeah. I mean. Sure. I guess. Why not. I mean...yeah. We've been together a long time, so...okay.
c. No, but he's gonna go anyway because he's a stupid jerk who can't grow the fuck up and be a man.
d. Of course, man. He needs to just go, you know? He needs to be and live. I'll make him a mixtape for the trip.
e. Sure! I'll even give him the number of a few of my friends who will show him a good time. Meow! Let's talk about sex some more because it's so crazy to talk about!
f. Well sure, because we're so in love and we're getting married. See? Here's my ring! I'm getting married!
G/O Media may get a commission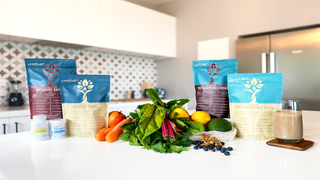 Question 3: It's Girls' Night Out! What Are Your Plans?
a. I'm meeting with my book club. The current discussion is about a book called "How To Humiliate Your Man Into Complete Submission." It's good. I know because I wrote it.
b. I'll probably just stay in, hang out with my sister, maybe walk along the beach with a charming stranger who represents everything my fiance isn't. You know, whatevs.
c. I'll do all of the shit that my stupid boyfriend was supposed to do but didn't because he's an idiot who can't do anything right. Like I have time for girls' night out. GTFO out of here, you stupid asshole.
d. I don't have any friends, unless you count my imaginary friend Goopbert, who lives in a tiny hole inside of my brain. He's magical and special and he only comes out when true love is in the air.
e. Oh I have a lot of friends...a LOT of friends. If you know what I mean. I mean I like to sleep with people a lot. Sexually. Like I like to have sex. Isn't that crazy?!
f. I'm going to have a party wherein my girlfriends will come over and we will embrace every cliche about women, ever. I will also be sure to talk about my wedding at least 900 times, in between conversations about shoes and blow jobs and Sex and the City.
Question 4: Where Do You See Yourself In 10 Years?
a. With a husband who no longer has the will to fight back and three beautiful, extremely well-behaved children.
b. I mean, the plan is to marry my fiance...which is a good plan...I think. I mean, yeah. I'm sure it is. We've been together for a really long time, so...you know.
c. Oh, I don't know, in jail, maybe, for going on a rampage? What the fuck do you care, asshole? You stupid, penis-having sack of shit asshole!
d. I live in the moment, man. That's where the really magical things happen. It also helps to have a whiny douchebag boy around to have to save, but whatever, man.
e. Cougar town, baby!
f. MARRIED!!!!!!!!!!!!!!!
Question 5: Who Is Your Role Model?
a. The Queen of Hearts
b. I'm not sure. I'm not sure of anything anymore.
c. Would you shut the fuck up and stop asking me questions? I have more important things to do than deal with your idiotic bullshit.
d. Drew Barrymore. Or Goolsbert's girlfriend, Princess Starryhearts.
e. Angelina Jolie. Everyone wants to have sex with her! And she's like, a good person, too, right? Can you believe that's possible? A woman who like, has a soul and also likes to have sex? I know! I know man! Fucking weird, right?
f. Mother Teresa. Oh no wait, she wasn't married, was she?
Stay tuned for the results!