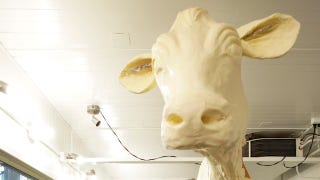 A group of animal rights activists broke into the refrigerated room housing the Iowa State Fair's butter cow sculpture on Sunday morning, and hung a small sign on it that read "Go Vegan." They explained in a statement,
We took this action to bring attention to the billions of animals enslaved for their milk, eggs and flesh. The butter cow represents humankind's tyranny over defenseless animals.
The sign only stayed up for about two hours, and the cow was unharmed. The tyranny continues.