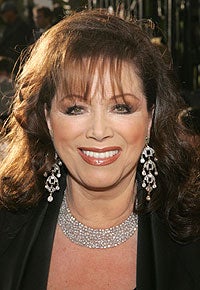 Jackie Collins has a new book, Drop Dead Gorgeous. We might read it! See, we thought we hated her. But we realized that we can't! She's Joan Collins' sister, one of the richest living authors and is always dripping with diamonds. She writes the kind of smut that we secretly adore, and may be queen of the quip! Over at Vanity Fair George Wayne asked questions of the writer, and we've picked out our favorite answers:

(On which fragrance she wears) "Angel mixed with Poison. I always mix them up. It's a good combination, isn't it?"

"One of the things my editors said to me when I was writing the book was, 'I don't think [a certain character] should sleep with the gardener.' I said, 'Are you kidding me?'"

(Apropos of nothing) "Have you ever been to Cannes?"
"My God, the food here is incredible."
"I collect sapphires and rubies. I like to get my jewelry myself."
"I am not a Hollywood wife—I only write about them."
The Bard Of Sex And Suffering [Vanity Fair]