Oh, hell yeah. It's summer time and you know what that means—the kids are away at camp and you and your husband/wife/gender neutral partner are DOWN. TO. FUUUUUUUCK.

If you thought your getting busy while your children were away was more a fact of life and less a New York Post sex trend piece, think again! It's PARENTS GONE WILD and the Post is here to tell the world about it.
"When Elle, 39, and her husband dropped off their 9-year-old son and 8-year-old daughter at camp three weeks ago, the Long Island parents were only too happy to wave goodbye to their kids for several weeks," writes Doree Lewak. "Later that day they boarded a party bus with 30 friends and plenty of booze to go see Dead & Company at Citi Field."
Dead & Company? Break out the Cherry Garcia, my bruh, because this whole summer is one big cheat day! And it gets even crazier, dude. Just you wait:
"As soon as [our children] left, we've been in nonstop [party] mode — it's seven weeks of freedom," says Elle, a fitness instructor whose two kids are away for the first summer ever, leaving her to enjoy parties with pot, magic mushrooms, ecstasy and group sex.

"This is the first time in nine years I'm not having to be a mom — I want no responsibility," says Elle, who, like many in this story, declined to give her last name for privacy reasons. "Some friends have swingers parties — I've seen group sex . . . It's no pressure, go with the flow. It's summer."
G/O Media may get a commission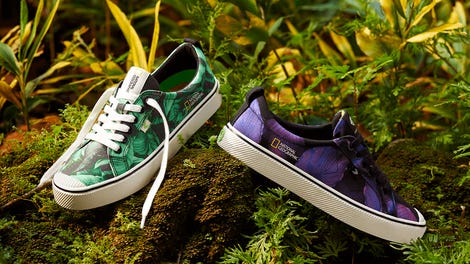 New New New
Cariuma + National Geographic
And here I assumed that having children completely erased a human's pursuit of pleasure.
Here's another cuh-cuh-crazy mom from Long Island:

"When you know your children are happy and safe, you can let loose," says Melanie, 38, a Long Island mom who shipped off her 12-year-old and 10-year-old a few weeks ago. It's her second kid-free summer, and she and her husband wasted no time popping bottles.

"We took the boat to a bar and literally spent all Sunday afternoon drinking," says the VP of a fashion company. Other exploits have included a night out on Fire Island with girlfriends, where they closed down the bar at 5 a.m. And the best is yet to come, she says, noting one set of parents who host an epic bash every year.
The parties, Melanie says, feature "naked girls and midgets," because nothing says the "hot time hornies" like the exploitation of multiple demographics!
You moms and dads be safe and have fun! Remember—it's one full summer of sex, drugs, and boozing followed by nine months where you're not allowed to touch each other, so enjoy it (it=sex) while you can!
---
Image via Buffy/The WB.