After French Elle ran a racist online column congratulating black people for becoming "chic" through embracing "white codes" of dress, a firestorm of criticism ensued. Now the magazine is facing hard questions about its editorial leadership, and its history of excluding women of color from its pages.
A group of public figures who happen to be black — among them the French supermodel Noémie Lenoir, the Cahiers du Cinéma critic Vincent Malausa, Morehouse College's Julius E. Coles — wrote an open letter in Le Monde regarding the Elle column. They unsurprisingly take issue with the way the magazine praised black people for at last giving up their "streetwear" and learning to dress "chic," which of course to Elle France means "white":
Elle magazine informs us that in fashion, in 2012, "the 'black-geoisie' has finally integrated white codes" of dress. Moreover, "chic has at last become a plausible option for a community that previously knew only streetwear." While for decades blacks were dressed as hoodie-clad "thugs" [Translation note: cailleras, the word given here as "thugs," intentionally recalls "racaille," the derogatory term infamously used by then-interior minister Nicolas Sarkozy to describe the banlieue rioters of 2005, which is most often translated as "scum"], they have finally understood, through the education of white people, that they must pay more attention to their appearance.

This is the content of an article published Jan. 13 in Elle, the weekly magazine preferred by housewives of the "white-geoisie."
The authors of the letter challenge French Elle's editors to go out and talk to some actual black people, and to not rely on American cultural examples (the offensive column was intended to be a commentary on Michelle Obama's fashion) when trying to speak to a black French audience.
It is high time for the editors of Elle to venture out of their glass-enclosed headquarters in the business district of Levallois-Perret to mix with the population, to see what black people are really like, and how they dress in real life. It is also time for them to realize that there are many black women in France. Black people do not all live in the United States, and they are not all pop singers, film actors, and sport stars.
G/O Media may get a commission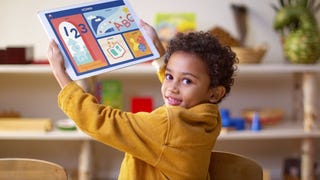 30-Day Free Trial
Homer Learn & Grow Program
It is true that French Elle has a dearth of black cover subjects and contributors. Elle France is a weekly magazine, not a monthly like U.S. Elle (which is published by a different parent company, Hearst). Out of the magazine's 52 2011 issues, I could find only two covers that featured women who aren't white: one was the winner of a modeling contest (she's on the left in the triptych above), and the other was the French actress Leïla Behkti, who is of Algerian descent (at right in the triptych).
French Elle regularly shoots (white) top international models for its covers, including Angela Lindvall, Erin Wasson, Kate Moss, Coco Rocha, and Natalia Vodianova. It even accords its cover to slightly lesser-known girls, like Juju Ivanyuk and Heather Marks. But the last time the black top model Jourdan Dunn had the honor of an Elle cover was in December, 2008 (that cover is shown in the center of the triptych above). Naomi Campbell had a cover of Belgian Elle in 2011 — among a great many other "big" covers — but apparently didn't rate a French Elle.
France is a multi-ethnic country, with a large North African community and a significant number of immigrants (and their descendants) from sub-Saharan Africa and the Caribbean, too. But the upper echelons of the media and the fashion industry appear to have remained pretty lily-white. Paris fashion week is — along with Milan — one of the hardest for black models to get booked. (And though New York fashion week does better, relatively speaking, its diversity is hardly something to write home about.) "Why not," asks the open letter, "hire some black editors? Call us crazy, but why not have a black woman on the cover? Just for once."
Celebrities Weigh In On Elle Dispute [IHT]
When Will There Be A Black Woman On The Cover of Elle? [Le Monde]