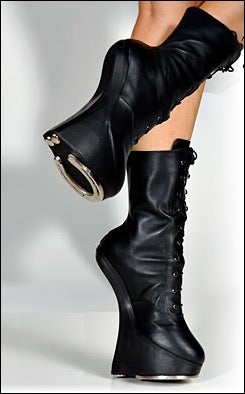 Lady GaGa sports rubber and latex; Bruce Willis and his wife posed in pseudo-BDSM ensembles and scenarios, and Olivier Theyskens showed ten-inch platforms with his fall collection. Isn't it interesting when fetish meets fashion?
From Madonna's corsets to Britney's circus whips, the trappings of sex play often make fashion statements. Take the horse shoe high heels, seen at left. They'd be at home on a high-fashion runway, or on Ms. GaGa, or just strutting the streets of New York. But if you know anything about pony play, then you know fashion is not the point.
Why do we sometimes enjoy taking a fetish-y item out of its context and using it as a fashion statement? Does it add edge? Sexiness? Danger? (All of the above?) Why do photoshoots rely on "kinky" to be interesting? And if fetish looks become more and more mainstream, do the festih-y items lose their power and appeal?
Horse Shoe High Heels [Random Good Stuff]