The show Fairly Legal opens with the heroine, Kate, stumbling out of her houseboat and dodging repeated calls from someone labeled "The Wicked Witch of the West."
Ana Gasteyer Satirizes the Girl Boss in 'American Auto'
We soon find out it's her stepmother, a realization that's set off with more calls accented by pictures of the Wicked Witch of the West, which beg the question "Who does that? Who labels their phone that way? Really, who?" But no matter.
The Wicked Witch of the West turns out to be a cool, Grace Kelly-like blond named Lauren (wonderfully played by Virginia Williams), who appears to be exactly the same age as Kate. She's crisp, poised, and wears her hair in a beautiful French twist. She also kicks ass in meeting after meeting, and relieves stress by withdrawing to the ladies room to scream into a bowl of ice water.
She is, in short, the best thing ever.
Now, call me crazy, but as I recall the Wicked Witch was not often thought of as "totally dignified," "a role model," and "extremely well pulled together." She was more "cackly," perhaps, "somewhat erratic," at least outside the Gregory Maguire/Kanye West universe. So I was confused, until it was made clear that Lauren is Kate's rightful nemesis when Lauren fires her assistant for showing up late and possibly stealing her stapler (well done, Lauren, he had the look of a tardy thief about him). Also, she doesn't have much tolerance for Kate's quirkiness (again, well done, Lauren — the fact that Kate is constantly showing up late to trials could perhaps be helped if she'd read Jen Dzuria's fantastic article on the topic).
G/O Media may get a commission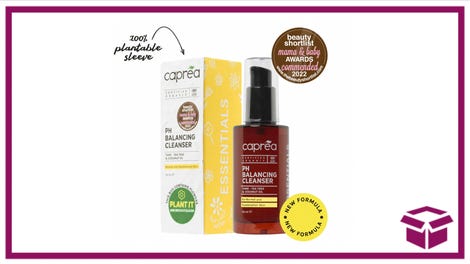 Save $9
47% Off Essential Organic PH Cleanser
Sustainable beauty
Caprea's Essential Organic PH Cleanser is just $10 with promo code TEN. Normally $19, this foaming face wash is crafted with organic Monoi oil. It's meant to target the production of oil secretion while protecting your skin against air pollution. Normally $19, you can save big on this richly-lathering face wash while supporting a brand that keeps the environment top of mind.
As Kate wept about how she refused to attend the reading of her father's will because, maybe, he loved Lauren more than her I found myself pausing the show so I could shout, "I love Lauren more than you! I love her more than you! I would buy her a 1,000 staplers if she'd be my friend! Hell, a million staplers! All of them made out of gold!"
But I must be in the minority, because if a woman is elegant and put together and just plain competent it seems that she's immediately labeled as an uber-bitch whose downfall we're supposed to delight in on just about every television show.
Consider Desperate Housewives' Bree van de Kamp. This was a woman who was able to refinish all of her own furniture, cook daily gourmet meals and still maintain a perfect hairdo. Those skills — and make no mistake, they are major skills — were consistently derided, Bree's husband had an affair, her children hated her, and, rather mystifyingly, no one but a completely psychotic pharmacist seemed to realize what a catch she was.
But then, at least she had friends and wasn't painted as a full-on-monster, just a woman to be pitied. Not so in Bridget Jones's Diary! There, Bridget's rival for Mr. Darcy's affections, Natasha, had the audacity to be a trim, well-dressed lawyer. She was apparently good at her job, also, rowing boats and chatting with Salman Rushdie, all of which made her loathsome. To be fair, she did clap her hands to try to get Mr. Darcy to pay attention, once, but perhaps she might be allowed one irritating tic when Bridget was allowed approximately 700.
It seems that life does not go well for the Natashas of the world, as Sex and the City's Natasha had it no better. I always find this odd, as she struck me as the only true victim of the series. What was she, really? A beautiful 25-year-old who seemed — astonishingly, by any standard — to have a staff job at Vogue and time to chair committees and hand-write thank you notes. She was also extremely gracious and polite to Carrie, right up until the point she found Carrie in her marital bed. Yet it was somehow acceptable that Carrie had an affair with Natasha's husband because… Natasha was 25? She was better dressed than Carrie, probably without going into quite so much debt? She had a "bullshit name?"
In any event, Natasha revealed herself to be heartless when Carrie crashed her lunch to apologize for sleeping with her husband and Natasha essentially said, "I dislike you very much, please go away." Carrie went away, all right. She went away feeling absolved, delighting in the knowledge that out there, Big was now single.
In Joan Didion's freakishly good essay, "On Self Respect," she talks about character as being defined as someone who knows the consequences of their actions. Specifically she writes that, "Like Jordan Baker, people with self-respect have the courage of their mistakes. They know the price of things. If they choose to commit adultery, they do not then go running, in an access of bad conscience, to receive absolution from the wronged parties… In brief, people with self-respect exhibit a certain toughness, a kind of mortal nerve; they display what was once called character." The fact that Joan Didion cites Jordan Baker not Carrie Bradshaw most likely has little to do with the fact that SATC wasn't on when she was writing the essay.
But we digresss! (Poor Natasha. Poor, lovely, Natasha, here's hoping you came out on top in the end).
The last show I can remembered that depicted a perfectly pulled together woman well was Boston Legal. Candace Bergen's character, Shirley Schmidt, was feminine, powerful, and the love object of both Alan Shore (James Spader) and Denny Crane (William Shatner). She seemed, in all ways, to be a woman worth admiring.
But then, that was a show geared towards an older generation. An older generation which perhaps appreciated cultivated skills rather than a sort of innate quirkiness in its women. Very few people say "I really loved Grace Kelly. You know why? Because she was so clumsy!" (Clumsiness itself seems to be a painfully irritating trait given to kooky/adorable female characters in most modern programs to prove that they're just like us! Never mind the fact that most of us don't stumble over objects constantly or find ourselves forever setting fire to things). And this is a pity, because it lowers the bar on the kind of woman it's okay to be. Whereas once young women might aspire to be eloquent, graceful as poised as Grace Kelly… well, now you should just be flustered, clumsy and cute. That is, if you want to be loved.
To be fair, we're all inept in our own ways — even the Natashas and Laurens of the world, who may not outwardly seem so. But the only real failing of these villainous women is that they don't appear to be outwardly incompetent. They don't run out into the streets in their underwear, they don't stumble out of inappropriate booty calls, they don't set houses on fire. But these are not flaws. And the fact that there is no element of Lucy Ricardo about them shouldn't make them unlovable. Because if they are, then it undermines the potential in all of us.
This post originally appeared on The Gloss. Republished with permission.
Want to see your work here? Email us! You can reach this post's author, Jennifer Wright, via e-mail at jennifer@thegloss.com.
Image via.