Have you ever fallen truly, madly, deeply in love—with a house? If so, you're in good company. Let's talk about house crushes.
Ana Gasteyer Satirizes the Girl Boss in 'American Auto'
The Wall Street Journal reports on the results of a recent survey by Realtor.com, which found that 69 percent of respondents have developed a "home crush" on a property they just can't stop coming back to. But it's not just people who're actually in the market for a home that do this. How else do you explain HGTV and Pinterest? People like to fantasize about the nests they'll feather one day.
Personally, I like to spend lazy afternoons cruising Zillow and Trulia for real lookers. In the process, I've developed several crushes, each a fantasy for a different mood:
Pre-war New York City coop built specifically in the 1920s or 1930s, full of elegant art deco-style touches. Not that fake 1970s shit, though! I'm talking clean lines, bakelite accessories, period paned windows, a vanity table that looks like the skyline in Metropolis. Think Myrna Loy meets Auntie Mame, serving gimlets in the kind of graciously rectangular living room you expect Fred Astaire to come tap-dancing across. Second or third floor, i.e., right at greenery height. Built in bookshelves.
The apartment in Rosemary's Baby—BEFORE she redecorates and totally ruins it. This is a double horror story, about a woman terribly wronged and also about a Gilded Age beauty in perfectly good condition sacrificed on the altar of late-60s taste. All that white! All that carpeting! That yellow wallpaper.
That Parisian time-capsule apartment, complete with everything in it. (This is my fantasy, I can have a stuffed emu if I want it.)
A rambling Victorian, anywhere in America. Not quite the monstrosity Scarlett O'Hara builds in Atlanta—but pushing it! Wood details darkened by time, creaky floors, dark red wallpaper, maybe a ghost or two. The kind of place that demands very old, very expensive rugs. No greenhouse, but definitely a small solarium.
The Biltmore.
So, what do you crush on? Is it a cozy arts and crafts bungalow? Woodland shack with deer in the yard? Hapsburg palace? Share with the class!
G/O Media may get a commission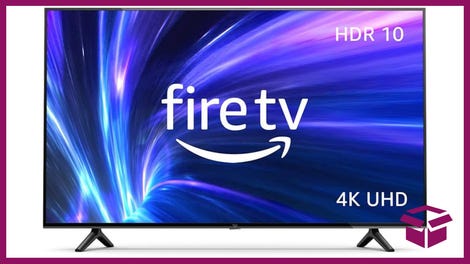 42% Off
Amazon Fire TV 50" 4K Smart TV
Photos via Shutterstock.