News of Urban Outfitters C.E.O. Glen Senk's abrupt resignation — he is reportedly heading to jeweler David Yurman, where he will be unlikely to be called upon to publicly explain a Navajo Flask to anyone — has sent the company's stock price into a tail spin. It's not clear whether Senk was pushed out, but Urban Outfitters' weak results are hardly a secret.
The company, which owns the Urban Outfitters, Free People, and Anthropologie brands, has seen net income fall, year-on-year, for the last four quarters. It's missed earnings projections, seen shaky sales (especially all-important same-store sales, a key measure of retail health), and margins have narrowed — which means that what products it is selling are moving only after heavy discounting. In November, Senk described himself as "disappointed" in the company's most recent quarterly results.
So what's the problem? Well, there are many. Urban Outfitters hit headlines and stayed there for weeks in October, when it came out that the company had received a cease-and-desist letter from the attorney general of the Navajo Nation over its use of the word "Navajo" in 21 different product names. Minneapolis woman Sasha Houston Brown wrote an incendiary open letter to the company, and the story was covered by numerous national media outlets. "Navajo" is not just the name of a people — it's also a registered trademark owned by the tribe, and the Nation was not happy to see its name applied to vaguely Southwestern-looking feathered stuff made in China. Urban Outfitters initially claimed it didn't know anything about the letter, but later it quietly renamed the products in question, which included the infamous flask and the "Navajo Hipster Panty."
The saga, which inspired more than 16,000 people to sign a petition against the company's use of the Navajo name, can't have been helpful for its sales. It posted a 7% decline in same-store sales during the quarter ended October 31.
G/O Media may get a commission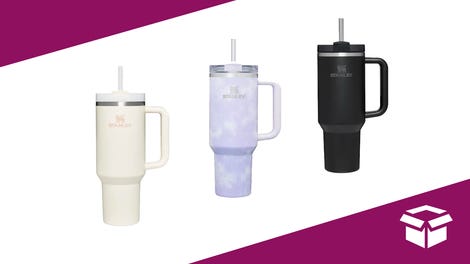 Up to 45% off
Stanley Cup Sale
Another person who took some of Urban Outfitters' cool? Miley Cyrus. She Tweeted angrily about the company in May, drawing attention to political donations made by Urban Outfitters co-founder and chairman Richard Hayne, who will temporarily replace Senk as C.E.O. Hayne's Republicanism is not exactly news — the most controversial donations, a total of $13,150 Hayne and his wife gave to then-senator Rick Santorum, date to 2003. And the Haynes' political activities have been extensively covered by the Philadelphia media, where Urban Outfitters is headquartered. But Cyrus drew attention to the donations, and Tweeted that "every time you give them money you help finance a campaign against gay equality."
It's not known how Senk, who is married to Anthropologie buyer and Man Shops World reality show star Keith Johnson, felt about Hayne's gifts to right-wing politicians who oppose, among other things, marriage equality. It's also not known exactly how and when Hayne went from being the anti-war, anti-authority, hippie co-founder of a Philadelphia store called Free People, which reportedly accepted barter and as per the name always had a box of free items, to being a spreader of Santorum and his bizarro crypto-conservatism. But Urban Outfitters, Free People, and Anthropologie all target a relatively young, hip customer — and we all know that young people overwhelmingly support gay marriage, even young people who identify as politically conservative. Your typical Urban Outfitters customer could maybe get behind ironic, rebellious Republicanism — as political affectations go, it might have the upside of pissing off their Boomer parents — but only to a point; there's nothing less hip than actually giving money to Rick Santorum and Kay Bailey Hutchison. Being publicly associated with a dude best known for hating gay people and wearing sweater vests is straight-up bad branding.
And of course, there's always perhaps the simplest explanation: fashion just kind of sucks right now. Urban Outfitters, Free People, and Anthropologie don't create trends — too risky — they aim to participate in and, at very best, anticipate trends through a combination of high-fashion knock-offs, indie fashion knock-offs, and paying lots of money to trend forecasting agencies. (All major fashion companies that target the mass market do this.) And fashion trends right now are kind of a dog's breakfast. Following a runway trend, after all, got Urban into that whole "Navajo" mess.
Go to Urban Outfitters' web site right now, and it's all bizarre cut-out dresses, $90 high-waisted rayon rompers, and genuinely confusing $150 bikinis. (Did the world really need a tie-die off-the-shoulder bikini? Really?) I am not sure that Urban Outfitters currently sells any top that would allow its owner to wear a bra. In a retail environment where consumers are still anxious about their non-essential spending, and where Urban's brands are facing increasing competition from fast fashion chains like H&M, Zara, and the aggressively expanding Uniqlo, that product assortment is just not good enough.
"We need more compelling product and we're improving the offering," Senk admitted the last time he had to attempt to justify Urban Outfitters' poor quarterly results to shareholders. Now that he's no longer C.E.O., that's not his problem anymore. But someone better help Urban out of this hole, and quickly, if the company wants to regain its cred with shoppers and ultimately survive.