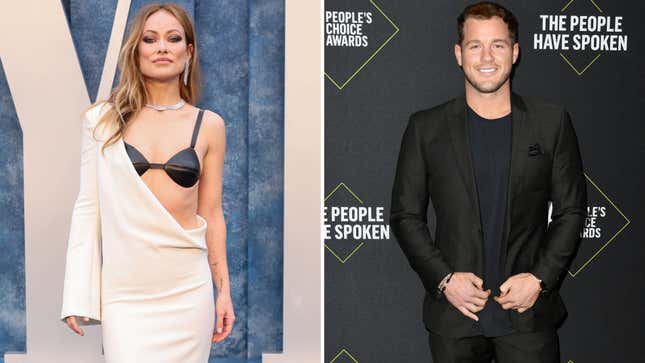 Over the weekend former and famously not-straight Bachelor star, Colton Underwood, married his boyfriend of about a year and a half, Jordan C. Brown, in Napa Valley. They looked incredibly handsome and being celebrity-adjacent figures, the ceremony wasn't without spectacle. Notably, there was a pool filled with synchronized swimmers.
Betsy Wolfe Reveals the 'Most Embarrassing Thing That's Ever Happened' to Her on Stage
"The couple arranged for Stanford University's artistic swimming team to perform in the pool as everyone exited the ceremony," People explained. Of course! Why not?! It's their special day! Along with the slicked back ponytail stylings of these athletic mer-women, party girl feminist icon Olivia Wilde was present at the nuptials.
Upon seeing this on my screen, I demanded to know how these two knew each other? Is Wilde a Bachelor superfan who pushed her way into this ceremony?! Was Colton slated to star in a Don't Worry Darling prequel where he and Harry Styles play gay lovers?! Turns out Wilde's involvement was wilde-ly boring. She is just old friends with the non-famous half of the newlywed couple. Brown is a political strategist who worked for Barack Obama, and he has tons of celebrity friends, apparently. Wilde famously protested at Trump Tower and has hosted reproductive rights galas. Peas in a pod, etc.
Wilde caught attention not only for being on the guest list but for breaking the golden rule of weddings: wearing white. The director wore an ivory Nili Lotan gown and immediately folks had shit to say. Not one to ever, ever shy away from engaging with the crowd, Wilde posted her reasoning for wearing white on Instagram.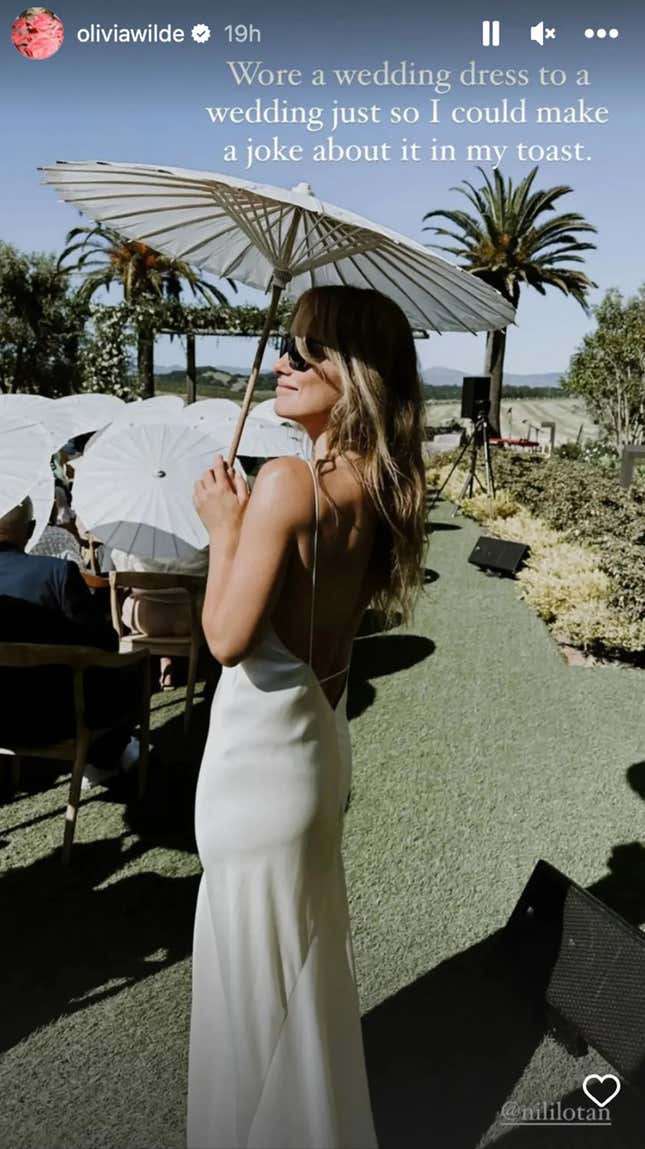 "Wore a wedding dress to a wedding so I could make a joke about it in my toast," she wrote on the story post. "The grooms approved."
I personally couldn't care less about her wearing white to a wedding, especially one that is sans bride. Also, just two weeks ago Wilde wore the same dress as Vogue China's editor to the Met Gala and seemed truly unfazed. This is not a woman bound by fashion laws! What I'm desperate to know more about is the joke, though. Tell us the joke, Olivia. Tell us the joke! I'm ready to laugh!
---