On this day 50 years ago, Jacqueline Susann's Valley of the Dolls was released. It would take a month before the book would make it to the New York Times Bestseller list, but once it got there it would remain there for a record-breaking 65 weeks, breaking to number 1 in May. A year later, a movie based on the book was being cast, it had been named one of the biggest selling books of all time, and Susann's career and legacy was set—even after her death from cancer soon after in 1974.

The book became a cultural classic, and stayed that way (in 1981 it was reissued for its original 1966 price). The Valley of the Dolls movie was a huge success, and a mini-series and TV show followed. All of this was due to the impressive promotional campaign Susann and her husband Irving Mansfield waged, which Martin Chilton described as being "organised like a military campaign" in a new piece for the Telegraph.
What did the trick was strategic book buying at the shops which provided the sales information that made up the New York Times best-sellers list. Letty Cottin Pogrebin, Geis's director of publicity, said that at the time Valley of the Dolls was published the whereabouts of the 125 stores providing information to the paper was "common knowledge".
Treating a book less like a literary product and more like a piece of entertainment was rare at the time, but it's a tactic that Susann popularized. While it made the book a household name, it meant that her work was not necessarily accepted as, well, quality. Valley of the Dolls was a bit of a punchline to some critics, who considered it one of the year's "grossest excesses." Though the Times' Martin Levin called her prose "a collector's delight," Lewis Nichols followed up by including her in less auspicious company: "seldom has their ever been so wretched a collection of titles as appears today in the fiction division of the best seller list." He later dug at the book further, noting that a particular bookstore in Washington D.C. ordered three copies of the book, sold them, and did not place another order for more. (This would not be his last dig at Susann.)
"Susann herself, with her skintight pink and purple Pucci outfits, spiky false eyelashes, gutter mouth and crass careerism, was considered something of a joke in literary circles," Karen Lehrman recollected in 1998. "Truman Capote called her a truck driver in drag, and then apologized to truck drivers. An article in Harper's ventured that she was 'a national phenomenon and we are stuck with her.'"
No matter: her lurid descriptions of her three pill-popping young women struggling with fame and beauty—based off her own life—were vivid and relevant enough to a generation of women clamoring for stories about themselves, the same women who were buying up Helen Gurley Brown's Sex and the Single Girl and The Feminine Mystique. (One of these women considered the book noteworthy enough to be included on a list of books worth sending to different planet should we need to set up a new civilization.)
G/O Media may get a commission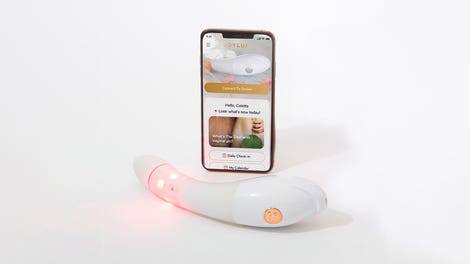 $50 Off
Joylux vFit Gold Device
As Amy Fine Collins wrote of the book's origins when Susann's life was turned into the 2000 movie starring Bette Midler Isn't She Great:
In January 1965, Berney Geis heard from Annie Laurie Williams. "She told me, 'Don't laugh, but Jacqueline Susann is writing a novel,'" Geis says. "I suppressed a chuckle. Then along comes a huge manuscript, and I turned it over to my editorial staff. They marched into my office and begged, 'Please, don't publish this book. It's literary trash.'" The Geis editor who would take on Valley of the Dolls, Don Preston, recalls, "It was a big mess of a book. A cheap soap opera—not a book anyone with any brain cells could take seriously. Why did Berney go to such trouble for something so lousy? Well, when Jackie wanted a full-page ad for Every Night, Josephine! inThe New York Times Book Review, and Berney said no, Irving pulled out his checkbook, wrote a check for about $6,000, and said, 'Let's just do it.' So Berney took the book home to do what we called 'Scarsdale Research.'" Geis, in other words, gave the manuscript to his wife, Darlene, to read. Halfway through it, Geis says, his wife "turned to me and said, 'I feel like I picked up the phone and I was listening in on a conversation of women talking about how their husbands are in bed. Who would hang up on a conversation like that?'"
The visual quality of Susann's world—and of Susann herself—while lambasted, helped too, both in the movie, and on the actual copies of the book, as a 1967 Times article explained:
At the moment, executives at Bantam Book are working in the shadow of the "Valley of the Dolls." The best seller, one of Bantum's major recent purchases, will be issued in paperback later this year, and the cover is being treated with operating-room care. The first cover suggestion was an illustration of the three chief women characters of the book with an ominous man lurking in the backdrop. Rejected. Then a picture of the author, Jacqueline Susann, who publicized the book with such glamor and finesse that she emerged as the Jayne Mansfield of the publishing industry. No. Then a clinch. Turned down. Then a sort of pill montage. Well, maybe.

"It does resemble the hardback jacket," Mr. Klein conceded. "But we don't really know whether everyone knows it's a story about pills. And we'll put a picture of Susann on the back. After all, she's publicized it so well."
Now it's less Susann and more those pills that remain famous to a new generation of women who pick it up. Grove, the publisher of Valley of the Dolls, is trying to rework that a bit, rereleasing it; apparently there will be a documentary about her life put out as well. "We want to make history again. We want Valley of the Dolls to be the first novel to achieve #1 on The New York Times Best Seller List – twice," Grove said on her website.
If Susann was here, it certainly would make history again. "She predicted the celebrity culture we live in now. Actually, she invented it: fame is as fame does," Pogrebin told Vanity Fair. After all, this is a woman who said of herself: "The 1960s will be remembered for Andy Warhol, The Beatles and Me!"
---
Contact the author at dries@jezebel.com.

Images via AP, Grove and 20th Century Fox