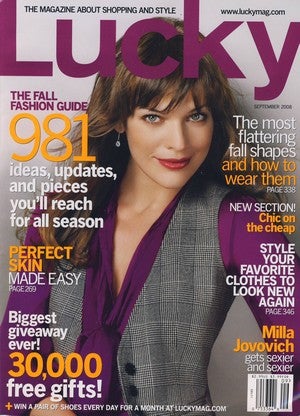 Is your language looking tired? Is it all covered with dull metaphors and off-color slang? Do you have dark circles around your i's and an oily t-zone? Never fear! September Lucky is here with some new words, and new beauty products to match. Make your diction a little more dewy, after the jump.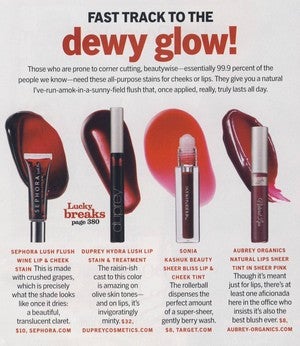 Perhaps you're looking for new ways to describe that healthy glow in your cheeks. How about "a natural I've-run-amok-in-a-sunny-field flush" (p. 232). For days when you're feeling a little less glowy, try "I-went-berserk-on-a-subway-train pallor."

Or maybe you're sick of boring old "smoky" eyeliner. Try Urban Decay's 24/7 Glide On Eye Pencil — according to Wende Zomnir in Lucky, it's "totally smokable" (p. 230). Toke up!



For those difficult lip-describing situations, pick up YSL Rouge Pure Shine No. 26. Lucky Beauty editor Jean Godfrey-June says it will make your lips more "lip-colored" (p. 246).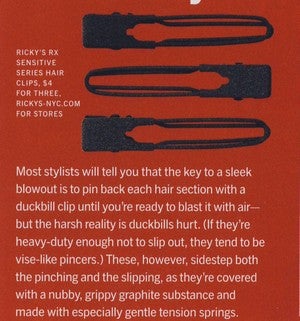 Not enough Colbert in your hair? Get Ricky's Rx Sensitive Series Hair Clips. They're "grippy" (p. 242).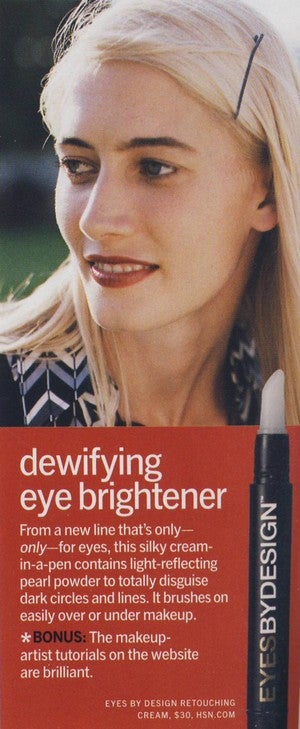 And best of all, here's a new way to describe your favorite eye brightener: "dewifying" (p. 236). At first I thought this would somehow rid your face of the influence of the book Wifey, but actually it just makes you look more dewy — you know, like a baby. In fact, since babies are so hip this season, maybe you should take a page from their book and not talk at all. Instead just light up an eyeliner and go run amok someplace. Lucky