Child rapist and film director Roman Polanski was released to house arrest in his Swiss chalet (pictured) today. But when (or if) he is actually extradited and stands trial, how much time is he likely to serve?
Polanski's house arrest sounds like a pretty sweet deal. Whereas the Zurich jail cell where he was in custody "had only a sink, bed, toilet, television and storage compartment," according to the AP, his chalet in Gstaad has many comforts. Says AP writer Bradley S. Klapper,
In Gstaad, Polanski can organize his days as he likes, working on his films and phoning and e-mailing whenever he wants.

The Oscar-winning director can receive guests or hold parties at the house and order in gourmet meals. He has views of snowcapped Alpine peaks, spacious rooms and all the amenities of a town known for its skill at catering to the wishes of the rich and famous.
However, at some point Polanski may actually return to Los Angeles for sentencing. Jack Leonard, Harriet Ryan and Doug Smith of the LA Times looked at previous cases to determine how long he's likely to serve. Due to the details of Polanski's particular situation, the maximum is two years. Polanski's sentence might be closer to that maximum than his supporters would like, because although he is now charged only with unlawful sex with a minor, he was initially charged with rape. While those who face only the unlawful sex charge have sometimes gotten off with probation, offenders against whom more serious charges had been dropped usually got stiffer sentences. Leonard, Ryan, and Smith explain,
In a case originally charged as a rape or other serious sex crime, an unlawful sex conviction is often the result of a plea bargain between a prosecutor with a difficult case to prove and a defendant who wants to settle the matter without risking a long stretch behind bars, according to experts and a review of case files.
G/O Media may get a commission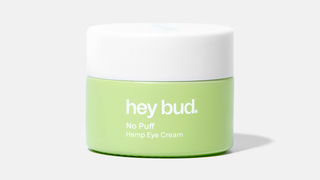 15% off
Hey Bud - No Puff Hemp Eye Cream
But plea bargain notwithstanding, courts seem to take the initial seriousness of the charges into account during sentencing. Of course, in order to be sentenced, Polanski still has to be extradited. The Swiss courts are still deciding whether to do this. And according to another LA Times article, by Shelby Grad, some are surprised that Polanski was granted bail while they make this decision. Grad writes,
Laurie Levenson, a former federal prosecutor and Loyola law professor, told The Times the bail could slow the extradition process because Polanski would have less incentive to resolve the issue if he is out of jail. "A Swiss chalet is a lot nicer than a jail here," she said.
So Polanski could be "Roman around" his chalet, as TMZ puts it, for some time. In a similar case, forklift operator Jose Antonio Trujillo bought dinner and a hotel room for a 15-year-old girl, then raped her. Instead of the support of luminaries around the world, he got a year in jail, followed by deportation. If only he'd made some movies.
Roman Polanski Released To Swiss Chalet, Greeted By Family, Media Swarm [LA Times]
Sentences In Statutory Rape Convictions Like Roman Polanski's Are Now Longer [LA Times]
Polanski's House Arrest Is A Splendid Captivity [AP, via Yahoo News]
Polanski — Roman Around Switzerland [TMZ]