In the wake of the death of Ted Kennedy, Democrats and Republicans alike are starting to wonder what will happen to what the Massachusetts Senator called "the cause of my life."
Some very real questions remain about what will happen to the health care debate now that one of its chief champions has passed away. The family is beginning to make funeral arrangements, deciding to bury him in Arlington Cemetery alongside his brothers. Obama has agreed to deliver a eulogy at the funeral. Last night, mourners gathered in candlelight vigils around the country.
Democrats, who recently reached a filibuster-proof majority after Sen. Al Franken (D-MN) was finally certified and Sen. Arlen Specter switched parties earlier this year, are now left with 59 senators, many of them moderate on health care reform. Many states simply allow the governor to appoint an interim senator between elections—it's a law that Massachusetts itself once had. But the state legislature, fearing a Republican replacement in 2004 when John Kerry ran for president and former Gov. Mitt Romney would make the appointment, changed the law. Now an open Senate seat can only be filled by special election 145 to 160 days after the seat had been vacated. Last week, Kennedy sent a letter to the state legislature urging them to reverse the law and allow current Massachusetts Gov. Duval Patrick to appoint a replacement.
Appearing on the Good Morning America show today, Patrick expressed "a lot of interest" in running for Kennedy's seat. Some family members, including former Rep. Joseph Kennedy, have been rumored as potential successors. Other Democrats in Massachusetts are rumored to be interested in the seat.
But Kennedy's death raises other questions about committee leadership in the Senate. Kennedy chaired the Health, Education, Labor, and Pensions (HELP) Committee. The next Democrat in line is Sen. Chris Dodd, who underwent surgery recently) and who is currently chairing the Senate Banking Committee. Dodd's currently facing a tough reelection battle in part due to his performance on that committee. Dodd has already been serving as chair of HELP in Kennedy's absence. If Dodd leaves Banking for HELP, that opens the Banking chairmanship to moderate South Dakota Sen. Tim Johnson. If Dodd doesn't take the HELP chairmanship, the next most senior Democrat on the HELP committee is Iowa's Sen. Tom Harkin. Senate Majority Leader Harry Reid may have some difficult decisions to make about committee chairmanships.
G/O Media may get a commission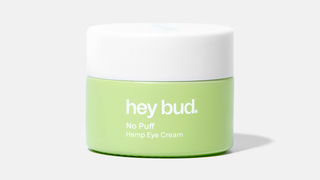 15% off
Hey Bud - No Puff Hemp Eye Cream
The broader question becomes, however, about what will happen to health care reform more generally. West Virginia Sen. Robert Byrd yesterday proposed renaming the legislation after Kennedy in honor of his life, and death. But others fear that renaming the legislation after Kennedy in the wake of his death will create a "Wellstone spectacle." (After the sudden death of former Minnesota Sen. Paul Wellstone less than two weeks before Election Day, friends attempted to rally mourners at his funeral for the election and ultimately lost the seat to Sen. Norm Coleman.)
Much of the speculation about what will happen to Kennedy's seat, chairmanship, and health care reform more generally is early. Many supporters and family members are still mourning. Democratic leadership has a lot of questions to answer, though, and many grassroots organizers fear that the longer health reform is delayed, the less likely it is to come about. Already, Kennedy's leadership on the issue of health care is sorely missed.
TED KENNEDY: Historic Speech @ Denver Convention [YouTube]
A Kennedy vigil: 'I'm here because I'm grieving' [Boston Globe]
Obama to deliver a eulogy for Kennedy [UPI]
Push Grows for Fast Choice on Successor to Kennedy [NYT]
Patrick mum on people interested in Kennedy seat [AP]
Dodd's Surgery Called Success [Hartford Courant]
Connecticut's Chris Dodd Faces a Backyard Rebellion [Time]
Byrd proposes renaming health care bill after Ted Kennedy [Think Progress]
Will Kennedy's Death Bring About a Wellstone Spectacle for Health Care? [Wizbang]