It's December 21 at 3pm. There are a million things left to do before the holiday hits: shopping, wrapping, baking, planning, screaming, etc. The stress is a nightmare. So let's talk about drinking, shall we?
Recently on the site there have been a few posts that have touched on drinking. This is not one of those posts! This is simply a post about holiday spirits and such. So let's keep it there, shall we? And away we go-ho-ho!
I am not a big drinker. I drink maybe once or twice a year. Contrary to popular belief, those of us who aren't big on the drinking aren't always hiding some big secret, or some family history of alcoholism, or some shady dealings that prohibit us from ordering a Shirley Temple Black instead of a plain old Shirley Temple. Some of us just don't really like drinking too often. Is it weird? I guess. And though you may find us strange or potentially shady, you know you love us, as we drove your drunk ass home and held your hair back as you threw up all during college. You're welcome. Now pay us back in adulthood by buying us a Coke once in a while.
Anyhoo! The holidays are a time when I like to have a drink or two. I'm a bit like Clarence from "It's A Wonderful Life," though, in that a lack of drinking throughout the year leaves me a bit out of the loop in terms of what people are drinking these days, and I usually stick to extremely old school drinks that my bootlegging great-grandparents would have rolled their eyes at.
The NYTimes is offering a holiday twist on an old standby: instead of mulled wine, which, as Times writer Jonathan Miles notes, "is one of those holiday confections that often sounds better than it tastes," the Times suggests trying a cold update instead: "a cold punch — involving zinfandel, Becherovka (a cinnamon-and-anise-flavored liqueur from the Czech Republic) and homemade spiced plum syrup, among other ingredients — as a mulled-wine replacement."
G/O Media may get a commission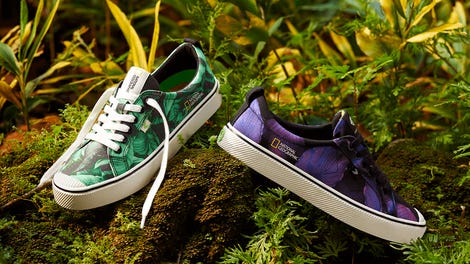 New New New
Cariuma + National Geographic
My holiday drink is as follows: hot chocolate + Baileys+ whipped cream+ crushed mint cookies= generic delicious holiday drink. Perhaps you, dear commenters, have more creative recipes you'd like to share?
An Old Acquaintance To Be Forgotten [NYTimes]