Did you hear? It's National Breast Cancer Awareness Month! And interestingly — creepily? — just three days into the titular celebration, the breasts 'n wings restaurant chain Hooters held a big blowout to celebrate the 10th anniversary of its first Manhattan outpost. A Hooters virgin until then (and a woman with the upper torso of a five-year-old [Stop bragging. -Ed.]), it took all the courage I could muster to face the room of bigger breasts I was certain to encounter. Luckily, I had surrogate brother/cleavage connoisseur Nikola Tamindzic by my side, and he helped me quiz the well-endowed women in attendance about what it takes (besides big tits!) to get hired as a down-home Hooters girl. Their responses, and a gallery from the party, after the jump.
G/O Media may get a commission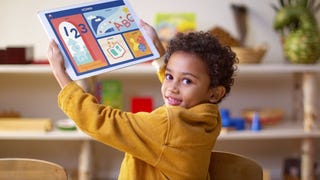 30-Day Free Trial
Homer Learn & Grow Program


(Begin viewing gallery by clicking on any image above)


Janae, NYC Hooters employee: Okay, well, there are some different questions here. Are you asking about the New York City Hooters or any other one? [Me: Uh, both?] Okay, well at any other Hooters, you need really big boobs. Really big. But in New York you don't need to. They don't care what you look like here. And you're pretty! I bet they would make you head Hooters girl, even though you have small boobs. Seriously, the only requirements to work here are be really peppy and, uh, be a girl.
Jasmine, NYC Hooters employee: You have to be really good at multi-tasking. You know, doing lots of different things at the same time? And you have to always be happy. When they're hiring, they're looking for girls who are good on their feet. There is no certain look. I know people say you have to look a certain way, but it's not true. Look around — all the girls here look different.
Jessica, Toledo, OH: Miss January: Oh you just have to be really personable! It's so much fun working at Hooters — really! Because at most jobs, if you're a waitress, you're just doing one thing. But here you're being a waitress and you're interacting with the table. The only trick is to just go out there and have fun, definitely. You're totally cute - I bet they would hire you right away. By the way, this is my first time in New York and tomorrow I want to go shopping; I'm looking for cheap bags. Where do you go for those? Somebody told me Chinatown?
Briane, Newnan, GA: Miss June: I've been working at Hooters for 4 years and this is my 3rd year in the calendar. The only trick is to go in and just start working hard — you just have to get used to how hard the work is, because you have to worry about so many things at once and entertain your tables. You have to have fun with customers and work. But like seriously, can I give you some advice? Don't let people make you feel bad about yourself because you work at Hooters. If you enjoy it, you enjoy. And when you start working here, there are people that are going to give you some pretty funny looks when they ask you what you do and you tell them. Don't let other people put you down. And I really do enjoy! And I have a full schedule to go back to next week — I have so many shifts next week because I am missing some this week to promote the calendar. But I'm not planning on leaving anytime soon; I'm working my way through college. Oh and can I give you one other piece of advice to tell girls? When you're getting dressed, either show leg or show cleavage. Not both. Don't show both if you want to look classy.
Becky, Nashville, TN: Miss October: Just come in and apply! That's really all you have to do if you want to work at Hooters. Apply and be confident. Oh, and put your makeup on. It's really not that hard.
Shawna, St. Petersberg, Fl: Miss April: You just need to get the application and then go and start trying out for the calendar right away! And keep trying to be in the calendar! Even if you don't make it at first, you eventually will.



Jennifer, Ft. Myers, Fl: Miss September: Expect to have lots of fun, lots of opportunities, and make lots of new friends! They're looking for the all-American cheerleader. You know, like the girl next door? You have to have that look to work here. You need to look like a cheerleader. And you totally do.