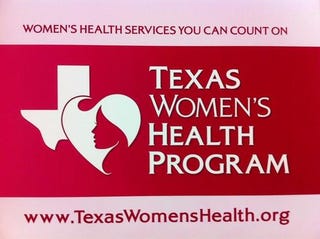 The Texas Women's Health Program has finally rolled out their brand new logo—tweeted breathlessly by Governor Rick Perry—and it's pretty hideous. Lindy West and Erin Gloria Ryan discussed the design via chat today.
Erin: The new logo for the Texas Women's Health program (the one where they exclude Planned Parenthood and reject millions in federal funding) is FUCKING AWFUL.
Lindy: GAAAAHHHHHH. Everything about it is awful.
Erin: Who aborted that graphic designer's talent?
Lindy: Heyo! Also, like, can I just have some dignified colors? For grown-ups?
Erin: Totally. Rather than giving us the packaging for UTERUS FUN BARBIE?
Lindy: TOTALLY. It looks like a knockoff drug-store-brand Uterus Fun Barbie valentine. Except since it's a knockoff it can't be Barbie. So it's like…Uterus Fun Burbie.
Erin: Uterus Fun Midge.
Lindy: Fuckin' Midge. Also, redness does not make me think of vagina health.
Erin: That's how my cunt looks. A big red Barbie head.
Lindy: And even though there isn't a cross in the logo it totally looks like there's a cross.
Erin: Because Texas looks like a cross.
Lindy: It can't be a coincidence that they obscured all the parts of Texas that don't look like a cross.
Erin: Did you see the replies? To the tweet? One person was like, "I'm not complaining but THAT LADY LOOKS BLACK."
Lindy: WTF. First of all, IN WHAT WAY. Second of all, BLACK PEOPLE ALSO HAVE VAGINAS THAT REQUIRE MEDICAL CARE.
Erin: Shut up.
Lindy: You're right. That was out of line.
Erin: I don't have a vagina. I have a husband hole.
Lindy: Oh, Texas.