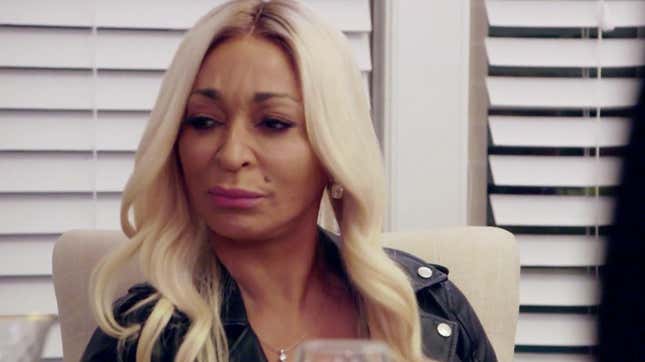 Against all odds, The Real Housewives of Potomac franchise went from mildly interesting to excellent over three seasons, in large part due to my queen Karen. As such, their taglines have gotten more crafty and nonsensical.

The trailer for Season 4, which premieres May 5, finds Monique (who was pregnant while filming) warning Candiace (the one who's white husband-to-be has a brown dick), "I'll drag you, pregnant and all." Robyn and Dixon are "like, bunny rabbits" (meaning they're fucking a lot), and Karen thinks Ashley, whose husband Michael was accused of sexual assault, is "broken."
Taglines are important to setting narratives, so here are my rankings, ordered from best to not bad.
6. "The shorter my hair, the shorter my patience." —Robyn Dixon (Let your hair grow out then?)
5. "I've traded in my umbrella. It's all gold at the end of this rainbow" — Monique Samuels (This requires too much thought: umbrella -> rain -> rainbow -> pot of gold. Best to keep it simple.)
4. "Now that I'm marrying my prince, this sleeping beauty is woke!" —Candiace Dillard (Marriage isn't a cure-all.)
3. "Karma is a bitch, but luckily, I'm on her good side." —Ashley Darby (Karma is genderless.)

2. "I'm the baddest thing walking and the smartest one talking." —Gizelle Bryant (A simple, sweet boast)

1. "You can try to tear me down, but the Grand Dame never crumbles." —Karen Huger (Something winners say)