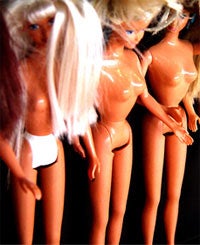 A leading British medical journal has released a report slamming the increasing demand for "designer vaginas" and warning that plastic surgery to the female genitals carries a risk of decreased sexual response. Fueling the demand for such procedures? Unrealistic images of female genitalia in pornography, women's magazines, and... the fashion industry.
Patients who sought genitoplasty "uniformly" wanted their vulvas to be flat and with no protrusion, similar to the prepubescent look of girls in Western fashion ads, they found.
The fashion industry can be blamed for many crimes against women, but plastic vaginas? We don't think so. Unless, of course, designer Tom Ford has some sort of collaboration with Mattel in the works.
Top Medical Journal Blasts "Designer Vagina" Craze [Breitbart]
Designer Vagina Surgery Growing Because Of Porn [Bloomberg]
Earlier: Pimp My Vadge
Related: Prank Call To Barbie, Part 2 [Zug]