Welcome readers!
Perhaps you heard, but Jezebel is undergoing a few big changes, changes that concern ownership, personnel and content. First things first: Late yesterday, the sale of the site to Conde Nast Publications' digital media arm, CondeNet, went through, and, as of this morning, the site is no longer associated with Gawker Media, although we have yet to integrate our new advertisers into the site. With new ownership comes new editorship, of course, and, although I'm thrilled to have been named editor-in-chief of the site, I'm sorry to say that, earlier this afternoon, Anna Holmes and Dodai Stewart were released from their positions. We sincerely appreciate their many months of service, but new ideas often require new faces and that is no less true of the new Jezebel. We wish both of them the very best and know that they will feel confident that the site is in able hands.
In addition to myself — more on that in a more formal, introductory post tomorrow — I'm thrilled to be able to announce the names of a few other staffers today, Christine Taylor-Wood and Eva Braunstein. Christine (she prefers to go by "Steeny") comes to us via British Vogue, where she worked in the fashion department after apprenticing at Burberry under the tutelage of Christopher Bailey for two years. She will direct our fashion coverage and liaison with our counterparts at Style.com and other Conde Nast web properties so that our readers are up on the very latest and greatest fashion news.
Our second staffer, senior editor Eva Braunstein, comes to us from the world of marketing and public relations — I confess that Eva patiently proofread this post over the weekend! — where, as an independent branding and marketing consultant, she worked on the creation of cosmetics and beauty products for companies including Rimmel, L'Oreal, and Estee Lauder. Eva will be covering beauty and serving as a glamorous guinea pig of sorts as she traipses through various Manhattan spas and salons and tries out new treatments. (Lucky her!)
Please welcome them to the fold.
One thing we've learned today: The "blogosphere" moves fast! Since the announcement this morning, there have been rumors swirling regarding the other veteran staffers of the site. We're pleased to say that Maureen Tkacik, Theresa Egan, Jennifer Gerson and Jessica Grose, have all agreed to stay on to help us through the initial transition period. (Maureen, in particular, with her wealth of knowledge about the apparel and footwear industries, will be of great assistance to Christine.) And yes, all of our staffers, new and old, will be convening at the Conde Nast headquarters in Midtown Manhattan as the redesign of the site continues. We hope that by taking the more veteran Jezebels out of their sweatpants and small studio apartments, they will be able to express their creativity and femininity in ways we haven't seen before. (I've always felt that sloppy dressing equals sloppy thinking.) And despite what you may have heard on other blogs earlier today, they will not be getting clothing allowances, although we encourage them to take inspiration from the merch on the pages of our parent company's many beautifully-curated magazines!
G/O Media may get a commission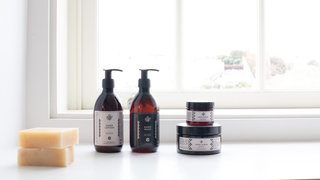 Exfoliate and Hydrate
The Handmade Soap Company
Now it's time to tell you about what you can expect from the new site. For starters, there will be less focus on issues that dominate the six o'clock news (isn't there a limit to how much upsetting news a person can take?) and more on what it means to be a contemporary American woman. Sure, there's an exciting presidential election going on, but those happen only once every four years; the importance of feeling beautiful is timeless. Part of the reason for the success and long lifespan of Conde Nast's stable of women's magazines is a commitment to and belief in that women need a break from their hectic, pressure-filled existences, and that beautiful photography, expert recommendations and an appreciation of fashion can help give balance to our very busy lives.
Speaking of, we have lots of great things to look forward to as we set the stage for what will be the next phase of Jezebel's evolution, including Yummy Mummies (young mom makeovers), Dream Date (readers win lunch dates with the best and brightest from the worlds of fashion, entertainment and high society), Kitty Korner (pet recommendations and tips on upkeep and maintenance...we know you ladies love animals!), and, of course, reader giveaways. Ideas? Suggestions? Just want to say hello? Feel free to drop us a line*. We're thrilled to have you along for the ride.


*We're still new to this blogging thing, so we ask you to bear with us until we get the technology — and the site redesign — down pat!