Years ago, a New Yorker starving for a chicken sandwich from the recovering homophobic restaurant chain Chick-fil-A would have to be content just thinking and complaining about it. After years of there being no Chick-fil-A options in New York City other than the one at NYU, Chick-fil-A is building the largest Chick-fil-A ever in our beautiful dirty city. A five-level Chick-fil-A, and the third in NYC.
Soon, there will be enough Chick-fil-A for you and your entire extended framily. There will be enough Chick-fil-A in New York to build a monument made of Chick-fil-A chicken sandwiches. There will be enough Chick-fil-A to feed our hungry souls in the case of famine.
According to Chick-fil-A's announcement (discovered via Grub Street):
At more than 12,000 square feet, the new Chick-fil-A restaurant located at 144 Fulton Street will be the largest the company has ever built, with five levels, including a rooftop terrace that will offer unimpeded views of Freedom Tower.
BUT, for as large as this Chick-Fil-A will be, it will also be...incredibly narrow, thus breaking two unnecessary records at once:
At only 15 feet wide, no other Chick-fil-A is as narrow as this one – not even the restaurant at 46th and 6th Street in Manhattan. But the beauty of the site is that it has five levels, including two levels of kitchen space for food prep, and three levels of dining areas to seat 140 guests.
G/O Media may get a commission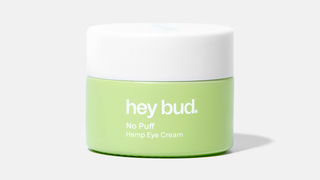 15% off
Hey Bud - No Puff Hemp Eye Cream
That's five levels of corporate fast food designed to make you sleepy and gullible. There's more. In order to get to those five levels, what do you need? Stairs. Not just any ole stairs. A "signature monumental staircase," which is also a first for Chick-fil-A. It'll be just like you're walking into a mansion, except the mansion is Chick-fil-A.
There's more. There's a skylight and a rooftop deck:
Cates says it's extremely rare for mid-block sites to have skylights. They're rare in Chick-fil-A restaurants too – only three of the company's more than 2,100 restaurants across the U.S. have skylights.
Congratulations. You've been blessed.
There's more. Meetings. You need to have them, but where? The answer is Chick-fil-A:
Inside on the uppermost floor, Cates' team added yet another first for Chick-fil-A restaurants: a bonus multi-purpose section of the dining room that is semi-private and can be set up to reveal white boards and cork boards for group trainings or meetings. Designed with the Operator's restaurant team in mind, the space may be available for other groups in the future, too.
And they will not rest until every building in the city is replaced with a Chick-fil-A and New York is just made up of expensive condos and Chick-fil-As.
There's more. This Chick-fil-A quadruples as a sign of resilience post-9/11 by "honoring renewal after tragedy" vis a vis delicious chicken sandwiches:
With the restaurant sitting under half a mile from Ground Zero and the 9/11 Memorial, Cates' team wanted to respectfully pay homage to the significance of the location...They drew designs for the front of the building to be stacked fully with glass windows, with elements built into the façade that give a subtle impression of the Twin Towers – one on each side of the restaurant. It's a feature that acknowledges the significance of location.