Welcome back to Midweek Madness, in which we suffer the slings and arrows of outrageous gossip and "read" the tabloids so you don't "have" to. This week: Beyoncé and Jay Z visit Gwyneth's "conscious uncoupling" marriage counselor; Jenna Dewan and Channing Tatum are on the rocks; and the Bachelorette got knocked up in the fantasy suite. So much drama.
---
Us
J. LO'S NEW BODY AT 44
Renowned Bodysnatcher Jennifer Lopez swapped her old body for a new one and this is news! Actually, in April, she was "determined to lose what she called 'that really stubborn 8 to 10 pounds'" so she went vegan. By eating a meat-, dairy-, and gluten-free diet — and working out A LOT, in addition to six hours of dance rehearsals — she dropped 10 lbs and thus is an entirely new person, worthy of our adulation. Immediately following this cover story is a two-page spread titled "Fit Over 40," showcasing Padma Lakshmi, Cameron Diaz, Bethenny Frankel, Naomi Campbell, Demi Moore and others in bikinis, with the copy reading "these beauties prove age is just a number." A number that matters not, so long as you are thin! Also inside: George Clooney wants to be a U.S. Senator, so his stepping stone might be running for governor of California in 2018: "and now he's got the perfect first lady." Apparently his decision to get hitched right away is all part of the strategy to shed his image as a playboy bachelor. Behind every great man are a bunch of women giving him the side-eye. Finally: Us does the important work of pointing out which World Cup soccer players look like celebrities. (Fig. 1) Thank you.
G/O Media may get a commission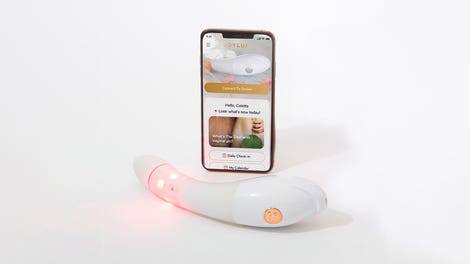 $50 Off
Joylux vFit Gold Device
GRADE: C- (death by bacon-sprinkled milk chocolate with gluten)
---
Star
$50 MILLION DIVORCE SHOCKER!
A similar narrative has played out in dozens, if not hundreds of issues of tabloids, with various couples, but here it is again: Channing Tatum and Jenna Dewan-Tatum's "marriage is on the brink." Career and travel just get in the way. He showed up on a couple of red carpet without her, said simply, "she's working," and we're supposed to believe that is code for "impending divorce." Scheduling and the wee baby are making things tough. He made four movies in 18 months; she's working on Lifetime series The Witches of East End, and he was seen out partying and "acting like a single man." Back while she was pregnant, he was spotted at some bar buying rounds of shots for "tons of adoring girls" and then "let them do body shots off his stomach." When asked, "where's your wife," he answered, "She's not here." And it's all hearsay and anonymous sources and old magazine quotes, on and on til the break of dawn. Next: There's a Jessica Simpson item that's so infuriating it has its own post. Check it out. Moving along: Gwyneth Paltrow has a "battalion" of 20 medical care providers on call: allergist, blood analyst, naturopath, osteopath, etc. Oh. And. Beyoncé and Jay-Z are in couples therapy. Things haven't been right since THAT night in the elevator, so they're seeing Gwyneth's therapist, the one responsible for "conscious uncoupling." This should be interesting. What else? Justin Bieber fell asleep during Bible study. Ryan Gosling is still in love with Rachel McAdams. And last, but not least, there's a Cameron Diaz "sex tape" out there — but it's actually just video of her topless, in bondage leather, at a photo shoot. No pearl-clutching necessary.
GRADE: D (death by alcohol poisoning)
---
In Touch
3 BABIES ON THE WAY!
Kate Middleton, Angelina Jolie and Bachelorette Andi Dorfman — the Three Musketeers of celebritydom — are all supposedly pregnant. In an article entitled "Kate Announces Baby No. 2," it is announced that Kate, like, could totally be pregnant because one time she skipped a charity event and another time she placed her hand on her stomach in public. K! In "A Baby For Andi," we learn that Andi Dorfman's dream of starting a family has already come true because she slept with two men in the Bachelorette Fantasy Suite, in which no condoms are provided. That's really irresponsible of the producers!! This mystery-baby is on them (fortunately, said mystery-baby definitely does not exist). Finally, we become enlightened about "Angelina's Dramatic Decision" to postpone having her ovaries removed in order to have another baby. Evidence: the Jolie-Pitt children are "laughing about" how much their parents are having a lot of "alone time," according to an insider embedded in the pack of children. If that doesn't work, though, Angie will probably use a surrogate or just adopt "another child from a war-torn region." Really like how the editors don't even try to come up with a specific country. In other news, someone is shopping around a fuzzy video of two human-shaped blurs who may or not be Selena Gomez and Justin Bieber doing lines of cocaine. Their case would definitely be improved if one of those blurs had sparse facial hair and a festive bucket hat. Elsewhere in the magazine, Kendra Wilkinson's husband cheated on her with a transgender escort while she was pregnant; the escort, Ava London, spoke to In Touch exclusively and said that she and Mr. Kendra Wilkinson "had sex several times." Also: this page-long article was the result of reporting by FIVE DIFFERENT PEOPLE, one of whom "verified [Ava's] profession" by going to her house, "where the scantily-clad 27-year-old asked for a $250 'donation.'" WHAT. Next: Miley Cyrus is devastated because Liam Hemsworth, whom she broke up with in September, doesn't want to be with her again. She has attempted to win him back by "dressing provocatively and broadcasting her loneliness on Instagram," says the magazine. As one does.
GRADE: F (death by STD caught while filming reality show)
---
OK!
KHLOE'S PREGNANT
Another person who has touched her stomach in public recently is Khloe Kardashian, effectively confirming to OK! that there is a fetus in there. She and French Montana have been fornicating "like rabbits," says a source, and now they have fertilized an embryo together. Another source says that Khloe "intends to go all the way with him — marriage, family forever." You know, typical stuff for a couple that has been casually dating for a few months. In other fabricated "baby bombshells": Hayden Panetteire is having twins; Kourtney Kardashian wants to name her baby Cruz because one time she made out with Jackie Cruz from Orange Is the New Black; Scarlett Johansson has "ALREADY PUT ON 40 POUNDS." Blergh. Moving on: Anna Paquin got really drunk at the True Blood premiere, which is being called a "boozy breakdown" instead of, like "actress drinks tons of free champagne at event held mostly in her honor." Elsewhere in the magazine, we are treated to a hysterical report about how Katy Perry is "on the edge of an emotional spiral" because she has been seen in public with three (3) men since breaking up with John Mayer. "Several people in her crew are worried she might slip up and get pregnant," says a "friend." Um. Do these people know about contraception? I guess it's kind of cute to see the editors trying to conceal their "being a slut is dangerous!!!!!!" narrative in a nonsensical argument that a pregnancy could occur... if Katy Perry and her man-friend are careless whilst intercoursing wantonly... or something. Sigh.
GRADE: F (death during childbirth)
---
Life & Style
I QUIT!
[Callie writes:] This issue of Life & Style was even worse than the rest of the garbage spawned forth this week. It was as though someone gathered up the fermented trash juice festering beneath the four other tabloids and sprinkled it over a sleeping rat who was dreaming of the Kardashian family. I QUIT, Life & Style. I QUIT.
GRADE: F (death from rabid rat bite)
---
Addendum
Fig. 1, from Us