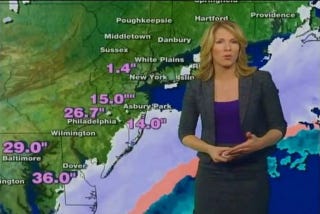 TV weatherwoman Heidi Jones now admits she made up the story of a Hispanic man attacking her in Central Park. However, she's pleading not guilty to charges of filing a false report.
According to MSNBC, Jones told police that "she was accosted by the same man on two occasions, while jogging in Central Park and again near her apartment. She claimed her assailant was a stocky Hispanic male in his 30s wearing a black jeans jacket and blue jeans, about 5 feet 9 inches tall." She said the first attack occurred on Sept. 24, and the second on Nov. 21. However, she now acknowledges both reports were false. She told police on Dec. 13,
I did make this up. I made it up for attention. I have so much stress at work, with my personal life and with my family. I know there is no justification for it.
Still, the NY Daily News says she'll be pleading not guilty to false-reporting charges, which could carry prison time. Her lawyer Paul Callan says, "There is a presumption of innocence that applies even to Heidi Jones." The Daily News also characterizes her claims as rape allegations, but Callan has said,
Ms. Jones also wants to make it clear that at no time did she ever claim to any law enforcement official that she had been raped or that she was the victim of an attempted rape. The characterization of this case as a 'false rape claim' is character assassination directed at a respected broadcast journalist.
It's not clear yet what Jones's defense will be — maybe something about the "personal problems" she claims drove her to lie. Whether or not this gets her acquitted, it's not an excuse — false claims of attacks, whether sexual or not, make it harder for real victims to get justice. And I'm far from the first to say this, but could troubled folks quit making up fake assailants who just happen to be people of color?
WABC-TV's Heidi Jones Charged For Faking Story Of Park Attack; Told Cops 'I Did Make This Up' [NY Daily News]
Related: TV Weatherwoman Denies Claiming Rape [MSNBC]