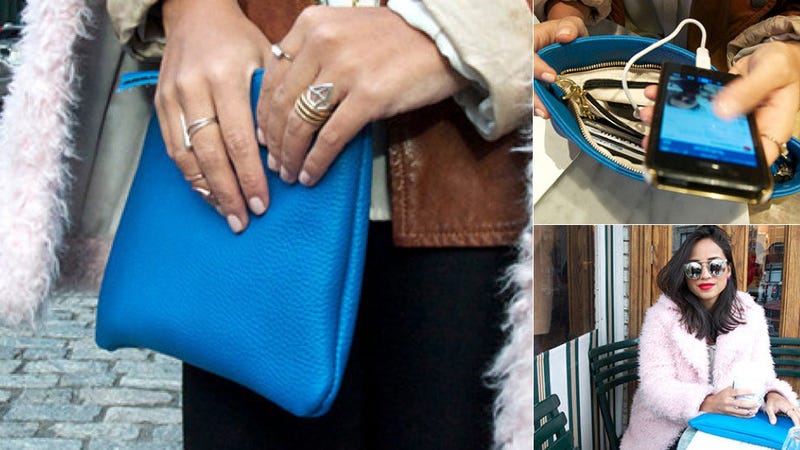 Ladies, having trouble keeping your phone charged at festivals and conferences like SXSW or Coachella? What's the purpose of that fancy purse besides keeping your wallet, lipstick and iPad warm anyway? Well, there's new clutch-cum-cross body bag that boasts a powerful battery in its pocket called the All-In-One bag by emPOWERED. It's fashionable, promises to juice up your device to a full charge and is compatible with a range of phones and handheld devices, from iPads to androids. I can't lie, I kind of want one.
emPOWERED founder Loni Edwards recently dug into how she began her fashion and technology line and shared that her bags have at least twice the battery power of the popular iPhone charger, Mophie. Edwards' line is in talks to partner with a larger accessory brand and they are also looking to include pieces for men. The biggest deal seems to be the company's offer of ten percent off for life if customers get in purchase a product this month.
Edwards: We're running a special launch month promotion where people who order before February 28th, 2014 will receive a special code that they can use for 10% off from now until eternity on our site. We wanted to thank our early supporters in a way that made them feel like family. By gifting them 10% off for life, they'll always have preferential pricing. They're helping us grow and we want to thank them for it!
Can someone call Celine or Marc Jacobs and let them know about this please? And if the All-In-One bag doesn't tickle your fancy, there's also the EverPurse, which is a smaller bag with a pad inside that recharges your device in a pocket.
Images via emPOWERED