The View (who promised us they'd be live all summer) are on hiatus for the entire month of August (not to mention two weeks in June). Those bitches! I really miss them. Oprah's off being philanthropic and having "s"-shaped poops somewhere, while Tyra has been filming new episodes in NYC, which will begin airing on September 10, exactly one month from today!
So in honor of only having to wait one more complete menstrual cycle for all-new TyTy, I have 161 lbs of Lady Bunch: Tyra's Greatest Hits, above!
PLUS: After the jump, Tyra makes lists of all her favorite stuff. I at once mock and relate.
OK, so apparently Tyra is like Rob Flemming from Nick Hornsby's High Fidelity. She makes "top five" lists for everything. Except that she doesn't always limit it to five. And sometimes they're not really itemized lists as much as they are a collection of random thoughts that she wrote on Post Its or the backs of rib bibs at the Rack Shack. Spoiler alert! She loves ribs and food plays a large part in these lists. (Disclaimer: These are not a lame Photoshop joke on my part. These graphics actually appear on the "Tyra's Wolrd" portion of her site.)
G/O Media may get a commission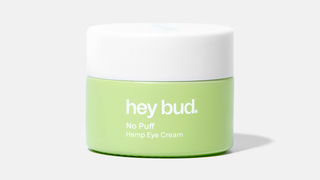 15% off
Hey Bud - No Puff Hemp Eye Cream
OK I can kind of see how collection fortunes from fortune cookies could be a hobby if like she had a scrap book where she keeps them all or something. But going to the movies? Concocting new sauces at the dinner table? (BTW, WTF?) I love how the one thing that is legitimately a hobby on the list was only added there as a joke. Lastly, as for #4: I think that over-eating is only considered a hobby if you throw up after. I'm just sayin'.
Here's what I think Tyra's hobbies really are:
1. Getting weaves 2. Giving makeovers 3. Giving makeovers with weaves 4. Putting aspiring models on the spot with inane challenges 5. Blow jobs (just kidding!)
I told you she likes ribs:
OK, so here's where I'm an asshole because 2, 3, 4, 6, 7, and 8 are all my jam. The only difference that I feel no guilt.
And finally: