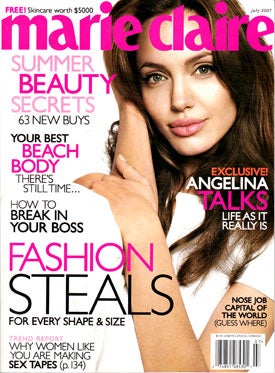 Just a few minutes ago, Marie Claire executive editor Lucy Kaylin said something to which we can totally, not at all relate! Visiting with NYC public radio host Brian Lehrer to plug her new book, The Perfect Stranger: The Truth About Mothers and Nannies, Kaylin let it slip that "If I wasn't getting paid, I wouldn't be there." "There", meaning, well, Marie Claire! Well, we sorta sympathize. After all, it's been a little over a year since Joanna Coles took over as editor-in-chief at the magazine, and the "smart girl's book" still seems to be finding its footing, a fact to which we can relate! But when it comes to women the magazine loves and women it doesn't... well, it's time for Marie Claire to stake a position, and fast. From what we can tell after looking at the July issue, the magazine's editors don't much like boozed-up Hollywood brats like Paris Hilton, Britney Spears or Lindsay Lohan; in fact, in the space of just 41 glossy, full-color pages, the aforementioned "celebutantes" are held up as cautionary tales in stories regarding pride in the female gender (Page 108: Paris Hilton's no Joan of Arc!); sex tapes (Pages 135-6) ; and the virtues of abstinence until marriage (Pages 142, 147: Some girls don't give it up as easily as Lindsay!). But then, bam!
There, on page 162, is a fashion editorial about "Flashy Minis, Shiny Bags And Strappy Heels" titled, "Party Patrol! How Lohan Can You Go?".


Ha ha! How Lohan Can You Go? We're well aware of hypocrisies inherent to women's magazine publishing — how else to explain editors who instruct us to love our bodies in one breath and how to "Lose 10 Lbs Fast" with the next? — but this is kinda ridiculous. Lucy, honey, let us buy you a drink sometime. We'd even find a babysitter but we know your nanny is aces. And it'll totally be ix-nay on the ashleehay impsonsay osejobnay. We promise!
The Hand That Rocks The Cradle [The Brian Lehrer Show, 3rd item]

MarieClaire

Related: Ashlee's Nose Job Is Last Straw For New Editor Of Marie Claire [NYTimes, sub req'd]

Panic At Hearst As Marie Claire Tanks [Radar]