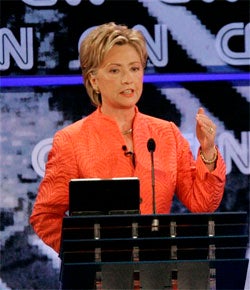 Remember Hillary Clinton's "tits"? Washington Post fashion critic and Pulitzer winner Robin Givhan wrote about them, like, forever ago, in one of those stories that seems a little mean until you think about how Ann Coulter has personally raised enough money for John Edwards' campaign coffers that he could probably add a "$500 haircut for every child" clause to his platform. So yes: The week before last Robin Givhan wrote about Hillary Clinton's show of boob, and now Hillary Clinton is using it to reap campaign donations, and the New York Times is jumping on the anti-Givhan wagon because they hate people who write about fashion in a way that doesn't sell ads in T Style Magazine, and the conservatives who have long suspected Givhan of being a Democratic shill are really confused, so before anyone forgets their crush on Obama we felt it was our duty to point out that:
Robin Givhan is a fashion critic.
D.C. is to fashion what, like, Burma is to human rights.
That is all. And yeah yeah, "Myanmar," fuck you.
Hillary Clinton's Cleavage [Crooks and Liars]