Days after commercial photographer Tyler Shields and his reality-TV-star girlfriend Francesca Eastwood hit headlines for lighting a $100,000 Hermès Birkin on fire for a photo shoot — and, astonishingly, facing subsequent criticism on the grounds of wastefulness, tackiness, and making bad photos — tongues are a-wagging and fingers are a-typing with what may be the most damning allegation to yet come out of BirkinBurnin'-Gate 2012: that the incinerated purse was not real Hermès.
At least, that's the consensus among the obsessives who frequent the many Internet discussion boards dedicated to iconic luxury handbags, such as PurseForum.
"Looks fake," comments one user. "That is not a genuine Hermès bag," writes another. "[B]ut guess it's getting her attention so serves her purpose." People who spend a lot of their spare time studying Birkins and photos of Birkins are looking at Francesca Eastwood's Instagram account, her sister Morgan Eastwood's Instagram account, and studying stills from their reality show — and they are saying that the texture of the bag's crocodile leather is wrong. It looks "too shiny," and more like croc-embossed leather or pleather. They also question whether a bag made of tanned crocodile hide would sag, warp, and seem to melt under the heat of flames, as the bag shown in Shields' photographs did. And say that $100,000 an unrealistically high price for a Birkin, anyway. Writes PurseBlog, "If the bag in these pictures is real, I'll eat my hat."
G/O Media may get a commission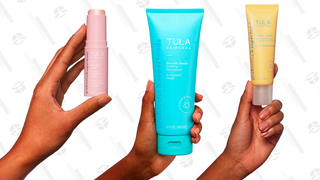 Tyler Shields is vague about the bag's provenance. The photographer claims he bought the bag secondhand from a contact in London. This is what he has to say about how it came to be in his possession:
[W]henever I asked anybody, "What's the best brand? What's the biggest thing?" Everyone said, "the Birkin," and then I looked it up, and the cheapest one is like $30,000. There's a waiting list to get them — these things are amazing. And when I was in London doing my last gallery [exhibition] I ended up getting the opportunity to get one, and I did.
Where did you get the bag?

I got it from — basically one of my very good friends over there has a bunch of them, and they set me up with the person who they get them from, and somebody brought me one in the trunk of a Bentley.

How much did you pay for it?

$100,000.

From your own pocket?

Yeah.
To understand this story, you need to first understand the weird and warped Birkin marketplace. Birkins are fancy handbags made by Hermès, one of the world's oldest luxury-goods companies. Because Hermès likes to maintain the exclusivity of its brand and of its most-recognized signature products, Hermès controls the Birkin market by not making very many of the bags, and by making it difficult for people to buy the bags. Hermès, ostensibly a bag-selling company, maintains an appearance of studied indifference to selling bags. Because the brand believes that it has a captive audience for the Birkin — that a customer who wants, and is prepared to pay tens of thousands of dollars for, a Birkin will not, upon being rebuffed, buy a Chanel bag or a Louis Vuitton bag or a Proenza Schouler bag instead — Hermès manufactures and releases an extremely limited (and secret) number of Birkins annually. New Birkins are not sold online. They are not sold in department stores. They are not sold (or even discussed, per company policy) over the phone. Nor are they normally sold, at least by the common definition of the word, in its own stores. If you present yourself in person at an Hermès boutique, credit card in hand, and simply ask to buy a Birkin, you won't get one. But your name may be added to a waiting list. Depending on the style of bag you want and what Hermès perceives to be your clout, the list might be years long.
The exact nature of this infamous list is, like Hermès' exact pricing structure and other seemingly pertinent details of the trade, left deliberately opaque: as anyone who's watched the Sex and the City episode with Lucy Liu and the Birkin knows, "the list" is malleable, more device than fact. Hermès likes to make people wait 2-3 years to buy a Birkin — the bag's starting price of around $8,000 is, apparently, insufficient on its own to maintain the exclusivity of the brand. The company claims that tanned leather and exotic hides that meet its exacting specifications and talented leatherworkers trained in the making of their bags are in short supply; ergo shortages, ergo the list. (There are, however, ways around the waiting list that don't depend on being a celebrity: after numerous fruitless inquiries at Hermès stores in Spain and the South of France, makeup-artist-turned-eBay-reseller-turned-memoirist Michael Tonello cracked the code when he went to the Hermès boutique in Madrid, piled up ten scarves, and casually asked, "Oh ... and one more thing. ... Do you have a Birkin?" $18,000 changed hands, and the bag left the store on his arm.) Hermès controls its distribution network very carefully, but its vigilance can't be perfect. You might, if you're lucky, even spot less-iconic Hermès bags on the shelves of a discounter like Loehmann's. But you won't ever find a Birkin there.
All this artificial scarcity means that there is a robust secondary market for Hermès leather goods, particularly the Birkin (and its smaller cousin, the Kelly). It's pretty simple: people often pay more for Hermès bags acquired from resellers than they would had they bought those same items new from an Hermès store. The premium is for not having to wait on a list.
So "used" Birkins can, confusingly enough, cost more than new ones. A 35cm Hermès crocodile Birkin currently retails for €31,200, or around $38,000. But on the secondary market, crocodile Birkins can change hands for prices in the $50,000-$60,000 range. Gilt Groupe confirmed it sold one for $56,000. At Web sites where would-be sellers and buyers of Birkins meet, you can see crocodile Birkins listed for $62,000, $63,000, $72,000, $77,000.
Is a $100,000 secondhand Birkin inconceivable? It's a high price, but not, apparently, an implausible one. Tina Craig, the founder of BagSnob, says, "I know women who have paid $100,000 online for a crocodile bag. The market can take these prices."
On the other hand, the bag might be a fake. The counterfeit Hermès market is almost as strange and contradictory as the primary and secondary markets for real Hermès. A "cheap" counterfeit 35cm Birkin made of red croc-embossed vinyl, with gold-toned hardware, will set you back $279. A significantly better-looking counterfeit 35cm Birkin made of what the seller claims is real crocodile leather from Hermès' own supplier, with palladium hardware, costs $9519 — or more than a real, and brand-new, leather Birkin in an Hermès store. It comes with its own "authernticity card."
I work a fair amount with leather in my spare time, making and repairing bags, wallets, and other small goods. And while I don't regularly use crocodile hides for projects (they are too expensive), I can say that tanned crocodile hides such as those used by Hermès tend to be very glossy. (The bag Shields and Eastwood destroyed doesn't look "too shiny" to my eye — and at any rate, Shields' flash-heavy lighting design could make it look shinier than it really was.) I've never lit a piece of crocodile on fire, but if under high heat it behaves anything like snakeskin, a crocodile bag would distort and shrink as it burned. Likely, the skin of the hide would shrink first, leading the comparatively rigid scales to pucker and buckle until they raised themselves and overlapped, like roof tiles. That's not really what you see happening in Shields' photographs — but then there are other variables to consider, such as the fact he and Eastwood were using an accelerant (gasoline), and had also cut the bag with a chainsaw. (They really had it in for that purse.) Ultimately, nobody except Eastwood and Shields is in a position to know whether the burning of this Birkin was a hoax or not.
Whether or not the bag was "real" hardly changes the message of Shields and Eastwood's profoundly meaningless, wasteful gesture — a gesture which was calculated to generate headlines for Eastwood's new E! reality show, and did. Whether they burned an actual Birkin or a counterfeit, or a cheap counterfeit or an expensive one, doesn't really matter. Destroying any bag for such shallow reasons is stupid. Destroying a fake bag and telling everyone it's real, however, is pretty damn tacky.
Earlier: Burning A Birking Is Not "Art"