A 21-year-old woman from Louisiana allegedly shot her boyfriend because he wouldn't let her sleep. Also in the news today, researchers have found that women with happy marriages sleep better than their single peers.
The victim of the Louisiana woman's crime is currently in the hospital for the single shot to her boyfriend's hip. When investigators arrived at the scene, the unnamed shooter lead them to a handgun that she'd concealed in some bushes. In an official statement, she claimed that he was keeping her from sleeping, which was her sole motive for the attack. While her methods are incredibly drastic, and probably indicate severe psychiatric problems, many of us have experienced frustration with our partners over loss of sleep (in my case, due to really, really loud snoring).
However, this isn't a problem for those happily married ladies out there! A new study has found that the best remedy for troubled (female) sleepers is a good marriage. Researchers at the University of Pittsburgh have found that women who report being happily married have less difficulty falling asleep-and staying asleep-than their single, or unhappily coupled, peers.
The research took into account other factors that may contribute to loss of sleep, such as depressive symptoms, economic hardship and employment status, alcohol and caffeine consumption, children and sexual activity. Wendy Troxel, lead researcher, said: "The results showed that even after taking into account all of these factors that are known to influence sleep, the level of marital happiness emerged as an independent risk factor for the existence of sleep disturbances." The study included women from different ethnicities and different economic groups.
La. Woman Allegedly Shoots Boyfriend Over Sleep [CBS]
Want a good night's sleep? Find the right partner [Reuters]
G/O Media may get a commission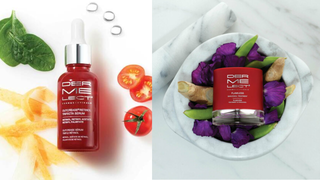 Save $19
Retinol Renewal Kit
Image via Pets Photos