Well, this is depressing: female authors are still using male pseudonyms — or ambiguous initials in hopes that prospective buyers won't realize they're ladies — because studies show more people read books written by dudes. Can you blame them?
Some of history's most notable authors pretended they were men to sell more novels; probably the most famous are the Brontë sisters, who published as the Bell brothers, because, as Charlotte Brontë wrote, "we had a vague impression that authoresses are liable to be looked on with prejudice."
Women still feel pressure to follow their example, even though that was 150 years ago.
For example, there's Christina Lynch and Meg Howrey, who just wrote a new fantasy novel about a Beethoven scholar and a murder mystery in Prague under the name "Magnus Flyte," because he sounds like the kind of suave intellectual who would pen a thriller about what publishers consider "man issues," which apparently include mystique, symphonies, the back alleys of Prague, and everything else besides shoes, babies, and the color pink.
"It sometimes makes sense for a female author to use a pseudonym, particularly when the main characters are male, or when it's a genre with a strong appeal to men, like military science fiction, certain types of fantasy or gritty thrillers," Penguin editor Anne Sowards told the Wall Street Journal. "When we think a book will appeal to male readers, we want everything about the book to say that-the cover, the copy and, yes, the author's name."
G/O Media may get a commission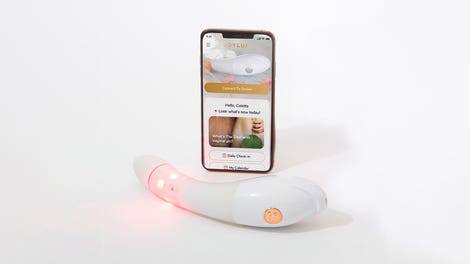 $50 Off
Joylux vFit Gold Device
Ugh ugh ugh. But the problem is that studies show men are more likely to read books that are written by other men; one study found that four out of five men said the last book they read was written by a dude. (Women don't discriminate by gender when it comes to literature. Interesting.) So nervous first-time authors feel pressure to do whatever it takes to sell as many novels as possible.
Women rarely win prestigious literary awards, and they have especially low chances of winning them if they actually write about women — consider how few women have landed the Man Booker Prize, or how only 12 women have been awarded the Nobel Prize in Literature since 1909. It doesn't help that there are way fewer female book reviewers at publications, as well as fewer books by female authors that are reviewed. Waiiit a second. I know Sherlock Holmes was a man (and that women aren't supposed to write mysteries — someone should tell Agatha Christie!), but I think I sense a connection here...
Some female authors end up compromising by using their androgynous names or initials, so people who buy their books won't think too hard about the gender of the author. Sowards' authors include K.A. Stewart, Rob Thurman and K.J. Taylor — all women who don't sound like women. Nice. Then, of course, there's J.K. Rowling, whose publisher warned her not to go by "Joanne" lest she scare off little boys across the country.
The article concludes with an aside about how "editors are quick to note that it's not only women authors who feel pressure to write under pseudonyms: Romance readers would be surprised to learn some of their favorite bodice-rippers were penned by men." Oooh, like who? We don't get to find out; that's how the article (rather abruptly) ends. Oh well. I guess I could always go read some "Fiction for Men."