Wal-Mart C.E.O. and president Mike Duke finally had to address the factory fire that killed 111 garment workers — including, allegedly, some who were locked into the factory and forced to remain at their work stations by managers even as the building went up in flames — at a Bangladeshi facility that manufactured clothing for numerous Wal-Mart brands. Labels and garments for Wal-Mart brands including Faded Glory were found in the ashes. Speaking at the Council on Foreign Relations, Duke said that the factory was not directly contracted to produce clothing for Wal-Mart, but had been subcontracted by a U.S.-based Wal-Mart supplier. Duke said his company had terminated its relationship with the supplier in the wake of the disaster.
"We're still stepping back again and saying, 'What else can we do?'" Duke said. "This is complicated. There are multiple steps in a supply chain. There could be a supplier that may be based here in the United States and may be buying from factories, and sometimes there are subcontract factories. We have a requirement to know those factories, though, and in this case that violation occurred and we're not going to do business with that particular supplier anymore.
[WWD]
As we know from reporting in the New York Times and Bloomberg News, however, Wal-Mart has advocated against improving fire-safety standards at its Bangladeshi supplier factories as recently as 2011. At a meeting held between retailers and workers' rights groups to discuss factory safety standards, "the Walmart official there played the lead role in blocking an effort to have global retailers pay more for apparel to help Bangladesh factories improve their electrical and fire safety," according to the Times.
According to the minutes of the meeting, which were made available to The Times, Sridevi Kalavakolanu, a Walmart director of ethical sourcing, along with an official from another major apparel retailer, noted that the proposed improvements in electrical and fire safety would involve as many as 4,500 factories and would be "in most cases" a "very extensive and costly modification."

"It is not financially feasible for the brands to make such investments," the minutes said.
[NYTimes]
---
G/O Media may get a commission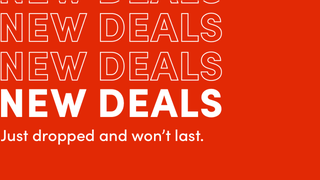 Up to 70% off
Wayfair - Cyber Week Deals
Daniel Buren, the artist who designed the set for the last Louis Vuitton show — the set was inspired by op art and involved moving escalators in the courtyard of the Louvre — says the brand gave him just a month to work on the project.
"I was quite surprised. We did not meet until August 28 and I thought we had too little time to do anything [for this season]. My only reservation was when I realised the time scale. I thought they might be wanting something for next year! With time so short, I said, 'This is totally crazy.'"

"They said, 'Don't worry — if you get an idea, and we're sure you will, you can really do everything you want.'"
[Vogue UK]
---
After pressure from Greenpeace, Levi's has become the latest major clothing manufacturer to pledge to end its use of hazardous chemicals in its production chain. Levi's first step will be to require all of its largest suppliers to provide data on which toxic chemicals are used and what pollution is discharged by June of 2013. (Pollution from garment and textile factories often affects not only plant workers but also people who live near the factories, because it can easily contaminate groundwater.) [Greenpeace]

Donald Trump talked up Anna Wintour's rumored candidacy for an ambassadorial posting to London or Paris on Fox & Friends. After Gretchen Carlson said that it would be "a favor" from President Obama, referring to the millions that Wintour raised for his reelection bid, Trump cut in:

"I don't view it as a favor. I think this is a favor to the country. She's a very capable person, a very good friend of my wife Malania and mine, but a very, very fine person and she's tough and she's smart and she gets it."

He added, "She would do things that nobody else could do in this position." [Fashionista]

China now buys more luxury goods than the U.S. A full 25% of luxury goods are sold in China; the U.S. consumes 20%. Japan buys 14%. [Bloomberg]

Retailers including Saks Fifth Avenue are dropping Rachel Zoe's fashion line, or selling it only online. Unsold stock is being shifted to discounters like Loehmann's. These are fairly normal developments in the great retail chain of being, but it does rather tend to imply that the brand needs Zoe's reality show on the air to maintain momentum. [BuzzFeed Shift]

Balmain designer Olivier Rousteing hopes to befriend Alexander Wang when he comes to Paris to take over the house of Balenciaga. Rousteing thinks Wang will be a great fit at the brand:

"I think it's great, he's really young, I think he already proved with his brand, what he's going to do, what his greatest talent is. I think it's good for Paris to get this new talent. And an American one, too. I think it will be important for the rest of the Parisian houses to understand how they can go [farther]."

The Museum at the Fashion Institute of Technology is planning an exhibition on footwear opening next February. The show will investigate the idea that shoes have become the extravagant "it" accessory of our age, as "it" bags were in the 2000s. [WWD]

Oh, it's just Eva Herzigova, walking on a runway and being five months pregnant with her third child. No biggie. [Telegraph]

Topshop is coming to Hong Kong. [WWD]

You can now get your face exfoliated with diamonds. Obviously. [Fashionista]

Small items like lipsticks and nail polishes are expected to sell well as gift items this holiday season. [WWD]

Proenza Schouler, which opened its first ever boutique on Madison Avenue last year, is looking for a location for a second in SoHo. [WWD]

Selfridges is opening a store-within-a-store that will sell versions of luxury goods that have no logos. Products will include everything from Crème de la Mer to Levi's jeans. [Telegraph]

And now, a moment with Diane von Furstenberg. Diane, what have you always wanted?

"I always wanted to live a man's life in a woman's body."

[WWD]