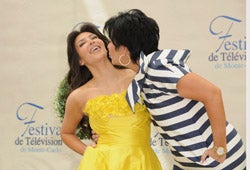 The Monte Carlo Television Festival, held at the Grimaldi Forum in southern France, is something that Princess Grace was never meant to see.
The Bombshell: Kim Kardashian rocks 50s glam like nobody's business - to say nothing of canary-yellow!



The Babydoll: Kate Walsh's mini looks like it was cribbed from someone in Our Gang. Make of this what you will.



Flaming June: Sofia Milos looks the way we imagine glamorous people in Monte Carlo look. This is why we cannot ever go to Monte Carlo.



She is Spartacus: What is the punishment for killing all the gladiator sandals in the world?



Lori Loughlin's Barbie-pink sheath is, for some reason, giving me a horrible flashback to something mysterious. I think it involves being humiliated at a birthday party.



What Say You about Kris Kardashian's jailbird special?


Getty" />