In the article "Touchy-Feely 'Mad Men'? My Mom's Love Letters Show a Softer '50s Male," this writer explored a cache of his mother's old love letters and learned that men of the 50s were not, in fact-2D.
Writing in the Christian Science Monitor, and later discussing the article on NPR, Jonathan Zimmerman analyzes the appeal of the stoic masculine stereotype that's a staple of any contemporary 50s dramatization.
In a culture saturated by public displays of intimate information, there's something very seductive about a man who keeps everything bottled up inside. But there's more. Behind the cult of the '50s man lies the fallacy of progress: the idea that the present must always be more advanced, sophisticated, and insightful than the past. And that's the real seduction. By gazing backward at the repressed '50s men, we can congratulate ourselves at how far we have come. Only, we haven't. And here's how I know: A few years ago, I read my mother's love letters from the 1950s. It was a strange experience, to say the least, but it made me reconsider what I thought about '50s men. Other historians have been doing the same. Most recently, University of Maryland historian James Gilbert showed that men of the 1950s were much more complicated – and much more expressive – than our stereotypes would suggest.
The piece is very sweet, and from a personal perspective, I'm sure the exploration was a fascinating look into the author's past. Quotes like "I really want to just let myself go – and write what I feel – that's perhaps one of the hardest things to do in life," or "I sometimes think the word love is inadequate to express all the tender and stirring emotions I feel – it's the little things – the sound of your voice – the way you walk – your eyes. I can't stand being alone" are beautiful, but does it really take reading people's private letters to make us realize that people were always people, with emotions and feelings?
I remember once, years ago, asking what the 1950s were like. "They were like now!" he said. "People got up, we talked like normal people, we went places, we ate. If everything was seething with tension, I didn't feel it." Now, while it's true that as the child of Jewish progressives who worked in theatre he was probably somewhat insulated from what we think of as "the 50s" of men in gray-flannel-suits, I think he had a point: in some ways we're so inundated by the stereotype that we actually begin to believe people were less complicated. Were mores stricter? Were gender roles and the standards of masculinity more stringent? Of course. But because things were more private, less expressed, does not mean they didn't exist. I think it's important to remember that the accounts we have of any time tend to be the most dramatic, the most static. It's an era that lends itself to easy categorization - and in many ways that accurate - but where does it say that every cake a homemaker baked had to be an act of drudgery, whereas we, more enlightened, can take pleasure in the same tasks and skills (crucially, ironically!)? Should we really need historians to tell us that life was more nuanced than Smallville? I hope not - but it's also nice to be reminded of the lost art of letter-writing.
G/O Media may get a commission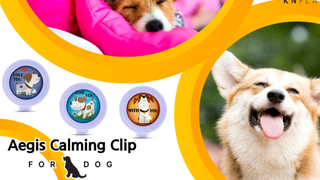 20% off
Aegis Calming Clip for Dogs
Touchy-Feely 'Mad Men' ? [Christian Science Monitor]

Loving The "Unlovable" Men Of The 1950s [NPR]