Wednesday night's People's Choice Awards seemed by and large an endless procession of Who?s promoting their forthcoming television pilots on Freeform and 32nd seasons of shows no one over 12 watches on MTV. But for the most part the red carpet style was a nice balance between cocktail casual and subdued, modern glitz. How 'bout them ensembles?
EMBARRASSING CORRECTION: I was confused by the fact that it is now 2016, and some of the images below are, in fact, from last year which, as you may know, was 2015. I suppose that explains why I thought Kristen Bell wore the same gown twice. Please pardon the error, which I regret more than you'll know because wow—so dumb—and just enjoy the rehash here and there. Bless.
Above, the unlikely union of Vanessa Hudgens, Keke Palmer, the demon Julianne Hough, Carly Rae Jepsen and Kether Donohue—your 2016 Grease Live! Pink Ladies—appears that they coordinated their looks, which is cute even if it didn't include satin jackets with their names embroidered on. Hudgens had my favorite look, a gunmetal slip gown by Kayat with a matching choker, but the whole crew did aight by their dress code.
I've been feeling gross about Balmain lately—the '80s Vegasness of it all is proving too much, particularly after this Insta—but leave it to iconic '90s supe Amber Valletta to redeem it, looking like a giant swatch of suede in a cut-out bandage of a thing. Taupe, too, is getting tiresome (Kylie, again) but with no accessories I can appreciate the minimalist sentiment at least.
G/O Media may get a commission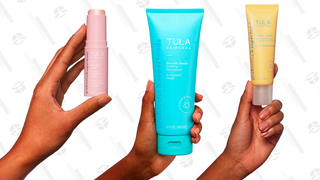 Arden Cho (who?) is my best-dressed for the evening, though this angle makes her gorgeous Mario Dice gown look ill-fitting. (It's not.) The voluminous, delicate drape and crimson embellishments almost distract from the fact that it's basically a well-cut nightgown and turn the neverending red carpet sheer trend into something subtle and mysterious. Googling Arden Cho now! Jane Lynch has never been so perfectly Jane Lynch, doing Eileen Fisher chic in contrasting prints and looking like someone I want to teach me how to batik. Very San Francisco, very excellent. Sherri Saum, who—did you know?—is in an ABC show called The Fosters, showed up with my favorite hair/dress combo, in a lovely and almost conservative dramatic gown with a sort of windswept, breathless updo. It's all very romantic (just like The Fosters????? No???).
There was a really nice turn towards simplicity, the likes of which we likely won't see for the rest of the awards season. Jerrika Hinton (she's on Grey's Anatomy now, but I had to look that up) wore a lovely ideal of comfortable formalwear in the form of rich hues, a floor-sweeping skirt, and an elaborate necklace complimented by a simple updo. Sarah Rafferty (who???) was perfect in a satiny robe gown by Houghton that was the perfect balance of covered-up and strategically sexy, plus the navy blue was perfect with her skin tone and hair (word to the gingers of the world). Shay Mitchell (Pretty Little Liars, I totally knew that) went with a variation on that theme, doing a Haney racercut mock turtleneck with a vampy slit up the side. And Torrey Devitto (WHO???) was another fave, perfection in a beautifully cut and draped gown of Marsala (RIP 2015).
PANTS! In the way we love them, not the British slang. Ellen Pompeo pulled the tan/taupe card but it looks better on her than most, owing mostly to it being the perfect complimentary tone to her hair. Kate Hudson's Stella McCartney onesie was practically aspirational, while Game of Thrones star Nathalie Emmanuel pulled out a look I'd like to try, the conservativeness of these long-ass hems (oh, all these long hems) counterbalanced with a full bra shot and a smile.
But who really wants to miss the chance to sparkle, though? Allison Janney, Priyanka Chopra, and Sarah Hyland all gussied up to the max and looked great doing it, though Chopra's Vera Wang is my favorite, generally because giant sequin paillettes are the most luxurious.
Let's take a moment to appreciate that Fifth Harmony's stylist must have gotten wind of the Twitter slander on her, because this is close to the best they've ever looked on a red carpet, both individually and en masse. Or at least, it's more Kim K post-Kanye rather than pre-. But maybe everything's been a big homage to Tina Knowles; I don't rightly know.
Claire Danes wore Burberry and it was fine.
Lord knows I never want to slander Gabrielle Union, who chose a very pretty color on her, but I would also assert that in 2016, we (adult women) should let the red carpet cleavage chain be a thing of the past, unless you are wearing a bikini on the red carpet, in which case, go forth. Lisa Vanderpump, a person whose identity I know solely because of working at Jezebel with Kate, Kara and Ellie, is doing a sort of prom chaperone thing that is kind of whatever, and kind of works. Maybe ditch the handbag. It is a little better than Lucy Hale's busy pirate dress, which I'm not sure understands its own life philosophy.
I don't dislike Marcia Gay Harden's velvet gown at all; it just feels like the wrong season for it. (That side-eye is always in season, though.) Meagan Good is absolutely luminous and her beauty/hair looks great, but again, feels like the wrong season for mint green chiffon. I know it's LA, but like, El Niño, bro. Natalie Dormer is wearing Roland Mouret and it's fine. Meghan Trainor, well, that's a great silhouette on her, but it's doing exactly my previously stated problem with Balmain. Have you ever been to the Chandelier Room at the Cosmpolitan Hotel on the Vegas strip? Yeah. Like her music, it's too damn much.
CEASE THE INSANITY! Anna Faris and Kat Dennings are two sides to the same overly ruffled coin and it's drowning them, which is terribly unfortunate because they are very talented and cool people! Christina Milian looks good in lavender and her commitment to Dynasty does not go unnoticed, but it's a lot of line to cross for an awards show that is essentially the mid-afternoon snack time of awards shows. And Troian Bellisario????? Never mind who, more like wuttttttttt because that Caterina Gatta gown is 1. too Spring 2. making me want to snack in a field off her. Call us in like June?
Senior Class, here are your nominees for Cutest Couple: Dax Shepherd and Kristen Bell, who's lovely in Monique Lhullier but, I swear to god, has she not worn that gown on the red carpet before? Maybe when she was pregnant? Am I crazy? Mike Epps and especially Nia Long are nominated in two categories, both Cutest Couple and People Who Are Exactly as Hot as They Were In 1992; the world invented the phrase "never not slaying" for Long specifically, stunning in a simple glimmery black party dress. While it was a tough competition, though, I think we have to call the winners Miles Brown and Marsai Martin; the Black-ish "twins" are always so sharply dressed and charming to the point of scene-stealing.
On the male tip, I have to say I was most taken aback by Colin Hanks, whose look is full-on GQ photo spread and impressive as hell: contrasting prints? Jauntily accessorized tie clip? Perfectly suave fit? Check, check, check. Chuck Bass (ugh, okayyy, Ed Westwick) did good on the pocket square/formal shirt vibe, but I wish with all my heart someone would have told him not to leave the house in two-tone shoes with a black suit. Frankie Grande is partial to lamé, and here he has discovered it in a glimmering shade of aquamarine. God bless. Ryan Guzman, future Channing Tatum, is Chicano but is giving us his very best debonair Havana look, and it suits him. If you find him to be a "Who," I'll save you a Google: he is my husband.
Good night!
---
Contact the author at julianne@jezebel.com.
Images via Getty