First Alexandra Shulman, the editor of British Vogue, declared "war" on size zero sample clothing sent by major fashion designers; now Vogue Australia editor Kirstie Clements is joining her, saying:
Ana Gasteyer Satirizes the Girl Boss in 'American Auto'
"Some of the international designers' samples look like dolls clothes when they arrive. We shouldn't have to starve to fit the clothes. The clothes should fit us."
In a letter not intended for publication — but sent to Karl Lagerfeld, John Galliano and designers at Prada, Versace, Yves Saint Laurent, etc., Shulman wrote: "We have now reached the point where many of the sample sizes don't comfortably fit even the established star models." But let's not get it twisted: This is not about embracing women of all sizes. The editors' goal, primarily, is for the clothes to fit the models. Models are much, much thinner than the average woman. Still: when a fashion editor complains that she's got to hire women with "jutting bones and no breasts or hips" just so they'll fit into the samples, clearly, something is wrong.
Of course, as the Girl With A Satchel blog points out, Vogue, as a brand, is still obsessed with thinness. Writes the Girl With A Satchel blogger of the current issue of Australian Vogue:


Given the down-to-earth sentiment expressed by Aussie Vogue's top lady, I'm surprised then to see she approved 'Body of evidence', this month's "health" story, which could be called 'How to be a size zero'. The piece basically reinforces the fact that Vogue has a thin body ideal we should subscribe to, even in middle age, in order to fearlessly fit into all that fabulous, doll-sized designer garb.

The feature starts thus: "Spring's slimline pants and waist-cinching belts hold no fear for Gail Catterick. At 169 centimetres and 50 kilograms, the self-confessed fashionista delights in slipping her leanly muscled size-six frame into the latest catwalk trends. She loves a short skirt, and breezily carries off sleeveless shifts with all the elan of a woman half her age. Or less than half. Because, next birthday, Catterick will be 63 years old."
G/O Media may get a commission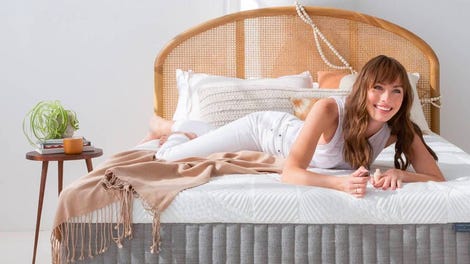 Sleep Sale
Sleep Sale - Brentwood Home
The burning question is whether American Vogue's Anna Wintour will speak up. (Hunch: No.) After all, she recently called people who live in Minnesota "little houses." Her June issue has a story called "Fat Chances," the subhead of which reads: "Will body perfection one day be possible? from skin-tightening lasers to fat-dissolving ultrasound, Catherine Percy discovers a new world way beyond lipo." December's issue had a story in which a writer froze herself for tighter-looking thighs. So while other editors are tired of the clothes getting smaller and smaller, is Wintour — who famously suggested Oprah slim down to be on Vogue's cover — actually thrilled?
Mags: Vogue Running Backwards In High Heels [Girl With A Satchel]
Vogue Editor Launches New War On Size-Zero Fashion [Times of London]
Fashion Houses Hit Back In Row Over Who's To Blame For 'Size Zero' Models [Guardian]
Fashion Heavyweight Bags Thin Models [Daily Telegraph]
Earlier: Faith Hill's 'Redbook' Photoshop Chop: Why We're Pissed
Related: British Vogue Editor's Lame PR Coup: No More Size Zeros! [Gawker]