Condé Nast International, which is responsible for all 19 international editions of Vogue, released a statement this morning that's potentially pretty ground-breaking: from the June issues forward, no edition of Vogue will work with any model under the age of 16. This won't mean much of a change in the pages of American Vogue, which tends to work with slightly older, more established models, but for Vogue Paris, Vogue Japan, and particularly, Vogue Italia — regarded as prestigious launching pads for new face models, some of whom are as young as 13 or 14 — it is kind of a game-changer. (For context, see our nifty lineup of historical and recent Vogue covers above — each of which features a model under 16. From left: Amy Lemons, Vogue Italia, age 14. Brooke Shields, American Vogue, age 14. Daphne Groeneveld, Vogue Paris, age 15. Carmen Dell'Orefice, American Vogue, age 15.) Vogue Italia has a 14-year-old — Brazilian model Thairine García — on its April cover, which is still on newsstands. And then there are all the other, lesser-known Vogues that nonetheless sometimes book very young models: the Vogue Brazils, Vogue Koreas, Vogue Australias, and Vogue Latin Americas of this world. They'll have to stop that right quick. Jonathan Newhouse, the head of Condé Nast International, said in a statement:
"Vogue editors around the world want the magazines to reflect their commitment to the health of the models who appear on the pages and the well-being of their readers."
Every editor of Vogue also agreed to the following six-point pact:
1. We will not knowingly work with models under the age of 16 or who appear to have an eating disorder. We will work with models who, in our view, are healthy and help to promote a healthy body image.

2. We will ask agents not to knowingly send us underage girls and casting directors to check IDs when casting shoots, shows and campaigns.

3. We will help to structure mentoring programs where more mature models are able to give advice and guidance to younger girls, and we will help to raise industry-wide awareness through education, as has been integral to the Council of Fashion Designers of America Health Initiative.

4. We will encourage producers to create healthy backstage working conditions, including healthy food options and a respect for privacy. We will encourage casting agents not to keep models unreasonably late.

5. We encourage designers to consider the consequences of unrealistically small sample sizes of their clothing, which limits the range of women who can be photographed in their clothes, and encourages the use of extremely thin models.

6. We will be ambassadors for the message of healthy body image.
That actually seems fairly comprehensive and eminently reasonable. The modeling industry's reliance on child labor has been linked to everything from financial exploitation of models, to interrupted or abandoned educations, to eating disorders that stem from the pressure to maintain the measurements of girlhood well past puberty. Not to mention to setting up an unrealistic ideal for the adult women who are the main consumers of fashion's imagery. We'll see if they stick to it. [NYTimes]
---
Cindy Crawford talks about "unconditional love" with her mother and her daughter and this is supposed to make you want to shop at J.C. Penney. [YouTube]
G/O Media may get a commission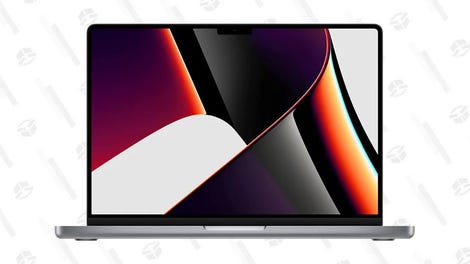 Save $300
2021 14" 1TB MacBook Pro
---
This is Rodarte's sketch for the Donna Anna costume they designed for the L.A. Philharmonic's new production of Don Giovanni. [V]
---
And here is Anna Dello Russo, talking about the upcoming line of accessories she's doing for H&M. "For me fashion is semiotic, it's like it means something else. You can read fashion also as observatory of the future," says the editor, who admits, "I'm really more fashion victim than fashion icon." [YouTube]
---