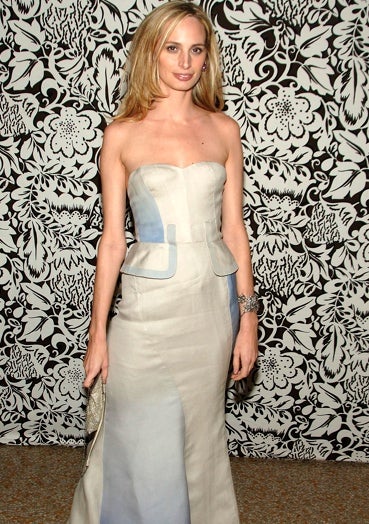 Vogue editor/socialite Lauren Davis is set to wed some Bolivian billionaire heir in what some gross person opines will be "the first real society wedding of the century." Can you remember back when there was a time you truly did not know about such things as "socialites"? Was the world maybe a better place then? [Page Six]

Macy's is closing nine stores because no one shops at department stores not named Nordstrom anymore, even when you give them all the same brand name so that there is no confusion, then spend $100 million getting Jessica Simpson and Martha Stewart to star in the same commercial, and force your employees to work graveyard shifts so you can stay open 24 hours during the holiday season. [WWD]

Poor people who get plastic surgery sometimes get shunned and chastised by friends/family/anonoymous internet people if they come out looking like totally different android fembots. So it is best to be totally open and transparent if you're planning on getting your nose cartilage sucked out or somesuch. "If you open up, you're unembarrassable," says some expert in things we are so happy there are "experts" in now. [NY Times]
Liz Claiborne died this year. "She was a pear-shaped woman," says Chazen, "who knew how to design for women, most of whom are also pear-shaped." [New York Times Magazine]
Other things that happened, as long as we're doing the year-end thing: Marc Jacobs alienated some people and dyed his hair blue, Valentino retired and that very furry Fendi Show on the Great Wall of China.
Yeah, that's it. Have fun tonight!