So far, the Sochi Olympics have been Russia as fuck. Last night, Bob Costas apologetically explained that he was wearing glasses because when he arrived in Sochi he contracted a mysterious eye infection. Then, he was forced to say "Pussy Riot," which was hilarious. But today, toward the end of the Games' opening ceremony, came the most Russia moment thus far: Alina Kabayeva, Vladimir Putin's 30-year-old alleged mistress and former rhythmic gymnast, carried the Olympic flame during the final leg of the torch relay.
Kabayeva and Putin have been a rumored item for many years, something denied by the Kremlin. However, some in the Russian press believe Kabayeva and 60-year-old Putin have a secret family together, and that she was behind Putin's divorce (his ex wife, who is 55, is rumored to live in solitude in a monastery). Her post-gymnastics career trajectory hasn't helped to quell rumors; after her illustrious gymnastics career ended, Kabayeva became active in politics and is now a Member of Parliament in Putin's political party.
Kabayeva's participation in the final leg of the torch relay comes after weeks of speculation that she'd be the one to light the Olympic flame (the flame was actually lit by a klassy lady who once Tweeted a racist picture of President Obama). But it's still kind of odd, at least according to commentators on the BBC's opening ceremony coverage. After all, the other athletes selected to carry the torch on the final leg of its relay include Alexander Karelin, who is almost unanimously thought of as the best Greco-Roman wrestler of all time, Yelena Isinbayeva, who has won two Olympic pole vaulting gold medals, been world champion three times, and currently holds the world record in the event, Maria Sharapova, who has won 29 tennis singles titles and is currently ranked third in the world, and Vladislav Tretiak, one of the greatest hockey goalies to ever play the sport, with a career spanning two decades.
There's also this:
G/O Media may get a commission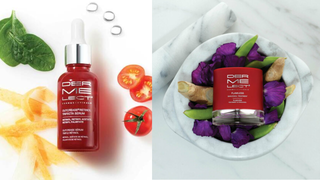 Save $19
Retinol Renewal Kit
So, apart from her advantageous political affiliation, to say Kabayeva didn't belong in that crew given her comparatively thin athletic CV isn't a stretch in the least. Nor is it to say that this only serves to bolster my argument that these entire Games are like a big wasteful birthday party for an unsmiling kleptocrat.