Virginia Governor Terry McAuliffe issued an executive order Friday restoring voting rights to people convicted of felonies. In Virginia, the law barring felons from voting dates back to the Civil War; the governor said today that the state "cannot achieve its full potential until all men and women are eligible for this fundamental right."
The order, as The New York Times reports, prompted an immediate backlash from state Republicans, who accused the governor of "political opportunism" and "a transparent effort to win votes." The measure could sway the upcoming election, given that Virginia is a swing state and the majority of people who will get their voting rights back are African-American, who are more likely to vote Democratic. McAuliffe, a former chairman of the Democratic National Committee, is also a staunch Clinton supporter, serving as her chairman during her 2008 presidential campaign.
In his announcement, though, McAuliffe framed the measure as purely a civil rights issue. It will allow convicted felons who aren't in prison, on probation, or on parole to vote. Virginia previously had some of the country's toughest laws on felons voting; Tram Nguyen of the New Virginia Majority told the Washington Post today, "The disenfranchisement of people who have served their sentences was an outdated, discriminatory vestige of our nation's Jim Crow past."
The ACLU estimates that roughly 5.85 million people nationwide are prevented from voting due to criminal convictions. Most were convicted of felonies, but in some states, misdemeanors can also bar people from voting.
G/O Media may get a commission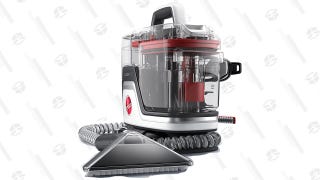 Save $10
Hoover CleanSlate Plus Carpet & Upholstery Cleaner
---
McAuliffe delivers his State of the Commonwealth Address, January 2016. Photo via AP