It's strange that on the occasion of her Sports Illustrated: Swimsuit Edition cover, so much of the coverage of model Kate Upton has centered around her weight. The always-reliable organ of controversy the New York Post has a scary article about how last year, Upton's friends had to stage "an intervention" about her weight gain and "scare her straight," because there is nothing scarier than a swimsuit model with a few rolls of flesh:
Sports Illustrated swimsuit cover model Kate Upton's concerned friends staged an intervention last summer — months after she was named SI's rookie of the year — after she packed on enough pounds to jeopardize her career, sources told The Post. The all-American beauty's close-knit circle sat her down and gave it to her straight: watch your diet, or you won't be on the cover of SI next year.
Ana Gasteyer Satirizes the Girl Boss in 'American Auto'
No evidence of this alleged weight gain, intervention, and loss is presented; even all the anonymous quotes from supposed friends of Upton describe her as happy and healthy. [NYPost]
But that's not all. The Times reports that while Victoria's Secret enjoys contracting Upton's services as a catalog model, she will "never" walk in the brand's annual fashion show. Says the casting director, Sophia Neophitou-Apostolou:
"We would never use" Ms. Upton for a Victoria's Secret show, Ms. Neophitou said by telephone last week from London. And, while Ms. Upton has, in fact, modeled on occasion for the company's catalog, her look, said Ms. Neophitou, is "too obvious" to be featured in what has become the most widely viewed runway show in the world.

"She's like a Page 3 girl," Ms. Neophitou said, referring to the scantily clad voluptuous women featured in The Sun, a London tabloid. "She's like a footballer's wife, with the too-blond hair and that kind of face that anyone with enough money can go out and buy."
Jesus H. Christ, Sophia Neophitou-Apostolou. You cast a fashion show where supermodels walk down a pink runway with wings made of styrofoam, glitter, and glue. It's not fucking Givenchy. Meanwhile, Upton has reportedly shot with V magazine. [NYTimes]
---
G/O Media may get a commission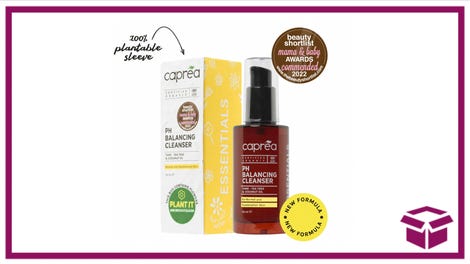 Save $9
47% Off Essential Organic PH Cleanser
Sustainable beauty
Caprea's Essential Organic PH Cleanser is just $10 with promo code TEN. Normally $19, this foaming face wash is crafted with organic Monoi oil. It's meant to target the production of oil secretion while protecting your skin against air pollution. Normally $19, you can save big on this richly-lathering face wash while supporting a brand that keeps the environment top of mind.
Badgley Mischka had some very fancy clothes at its runway show, but basically all we could notice was that the models had Sideshow-Bob-on-a-bad-hair-day 'dos bobbing their way along. Seriously; who thought that was a good idea?
Joan Rivers, who sat front-row at the show next to Kelly Osbourne, said afterwards that she had no regrets about criticizing Whitney Houston's outfit choices on Fashion Police in an episode that aired just the day before the singer died. But she is glad the episode has been pulled from rebroadcast. "When she's alive, she's fair game. It's part of being a celebrity," said Rivers. "Am I sorry she died? Of course I am, for God's sake. But when she was alive we would talk about her just as we would talk about Anna Wintour or Angelina Jolie. If Angelina Jolie died tomorrow, I would still say she was anorexic." Good to know. [WWD]
---
Naeem Khan apparently had Matt Damon in his front row. Also, Padma Lakshmi and Kristen Chenoweth, who looks so perfect in real life that she might as well be Photoshopped. As for the clothes, there were some sequins and sparkles, of course — the last model's movement was so labored by her floor-length, long-sleeved, silver dress covered with paillettes the size of quarters that she looked like she might as well have been doing Aquasize down the runway — but what was most interesting about the collection was the series of looks Khan sent out in graphic black and white. There were paisleys and other variations on traditional Indian prints. We liked it. And we especially liked seeing a diverse cast of models.
---
Kim Kardashian is on the cover of Allure, looking "natural." [Fashionista]
---
Crystal Renn made her début in the Sports Illustrated: Swimsuit Edition. [SI]
---
Two men tried to talk their way backstage at Lincoln Center by claiming to be members of the staff of governor Andrew Cuomo. It may shock you to learn that this did not work. [P6]

Friends, this is how you sneak into a show: walk purposefully, dress the part, and pay attention to crowd patterns. Yes, it used to be easier before Lincoln Center, before FashionGPS, but it is definitely still possible. Once you're in, stand around on the runway and talk to any friend you see while the house starts to fill. Then, when things are almost about to start, take any seat, just not a too-good seat. And whenever necessary, lie like your life depended on it. Business of Fashion blogger Imran Amed sneaked into his first Zac Posen show five years ago. His friend Jamil Nathoo, who did it with him, tells the story:

"It was a much more complicated time for us," said Nathoo, of the pre-BoF days when Amed was a consultant for McKinsey. "We went probably through six different security lines. This was when it was at Bryant Park and they had the big tents, and the bathrooms along the side. So, we kind of fell into that line, and essentially just pretended we were coming from the bathroom. We walked into the main tent. We didn't know any better; neither of us had ever worked in fashion. We thought we were in, only to realize there were three or four more checkpoints past there. So between doing an upside-down name read, pretending we were on the phone when security asked for tickets, and brushing them off, we just kind of kept going. The last checkpoint I got by, I turned around and I couldn't see Imran. I saw a security guard and I was like,'Shit.' You know, we're pretty much done. I kind of kept walking. Some guy taps me on the shoulder, I'm like, 'I'm outta here.' I turned around, and it was Imran. And we were in. And then we didn't know where to sit. 'Cause, you know, it was a Zac Posen show, one of the biggest shows. So we took someone's seats and we just said, 'If you will it, it will happen.' And no one kicked us out of those seats, and we had like, third row for Zac Posen. This was 2007. We were both dreaming of a better life in another industry."

Fran Leibovitz went (presumably with invitations) to Diane von Furstenberg and Carolina Herrera, the same two shows she usually goes to. She didn't like that Herrera's was in the morning. "I leave it to the construction workers of New York to wake me up," said the writer. "They never fail." [DFR]

But the prize for most random celebrity at a fashion show, FW2012 edition, definitely goes to: George Lucas, Rodarte. [ThreadNY]

Viola Davis sat next to a "suspiciously cheery" Anna Wintour at Vera Wang. The inevitable Vogue cover rumor starts now. [The Cut]

Russell Simmons reportedly went into a bathroom stall at the Dream Downtown in the company of a brunette model. We have been in those bathrooms, and man are they small; perhaps that was why the two emerged just a minute later. [P6]

Get ready: Franca Sozzani is planning a second African-themed issue of L'Uomo Vogue. [Styleite]

J. Crew unveiled a footwear collaboration with none other than Manolo Blahnik at its presentation yesterday. The line of heels will be sold in colors and patterns exclusive to the store. Unfortunately, when the shoes go on sale, they'll cost about as much as regular Manolos. [Fashionista, HuffPo]

Prabal Gurung may be one of New York's hottest young designers, but he still feels like he can't afford Comme des Garçons.

"Ever since I started my company, I haven't shopped at all. And after the last spring show I finally was like, you know, I deserve a treat. I always go to Commes Des Garçons, to the store, and you know, I can't afford to buy. Finally I gathered up some points and decided to treat myself. It's been the best thing that I've bought, cause it's easy and it reminds me of school and I just like it. It's personal enough to go from an event like this to work. Truly, I wear it almost everyday. I always wear the same stuff, because it's just not about me. I design clothes for women. Once I have my own menswear line, maybe then."

He has worn the jacket so often that he now takes it off for photographs, because there are "so many pictures" of him with it on. [The Cut]

Meet Ruth Finley, the approximately 85-year-old keeper of the Fashion Calendar, that document that organizes and lists New York fashion week's 300-odd shows. Finley has been doing this since 1945. [WWD]

Have you ever thought about fashion week in the context of contract law? There are venue contracts, image-rights and usage issues, music publishing rights, and all kinds of sponsor negotiations and clearances that designers, models, and companies must consider. [Reuters]

New York fashion week pumps nearly $900 million into the city economy annually. But some people on the Upper West Side don't like how they can hear a generator from the balcony of their fucking multi-million-dollar Classic Six for two weeks out of the year:

"It's an assault on the neighborhood," said Michael Graff, a lawyer who lives in the nearby Alfred condominium tower.

Excuse us while we tune the tiny violin. [NYTimes]

Fashion week is tough for many smaller and emerging designers. The world's fashion media and buyers are concentrated in one place — but they must compete on a crowded schedule with some of the industry's most established names for recognition.

Take Maki Obara, 33, whose fifteen years in the fashion industry include stints at Vivienne Westwood and Céline in Japan. She debuted her first collection, Maison Murasaki, at the Yotel in midtown on the Monday before Fashion Week began. Friends did hair and makeup for free, and she called in favors so she could use the space without paying, but she didn't have the resources to hire a publicist.

"To be honest, not a single press or buyer person responded to the invites," she wrote me in an e-mail the day after the show. "But it was fun."

And she has spent a lot of energy and money on her 15-look, 25-piece collection. After a financial backer fell through, her parents loaned her the cash from their retirement fund. The samples she made are now hanging in Showroom Seven, which will get the line in front of buyers. Obara must pay a monthly fee for the showrooms, and it's not cheap. "The designing part is really nothing," Obara says. "Ninety-five percent of it is business."

[New York]

Abercrombie & Fitch had a shitty quarter: profits declined by 79%, to $20 million. [WWD]

And now, a moment with Stefano Pilati, the creative director of Yves Saint Laurent. Stefano: kind of a lot of pressure, huh?

YSL — unfortunately for me — is already strongly defined in people's imaginations. Pretty much everyone has an opinion about it. You make flounced skirts, they ask for capes; you do capes, they ask for tuxedos; you do the tuxedo, they want it more 1970s; if you go 1960s, no, you should have gone to the 1980s. My hardest challenge was putting all this bullshit aside. When I create a piece of clothing, I think of today's life — dynamism, the role of women in society, and her behavior in given situations. I'm speaking of women who play leading roles in our society, not just the big-spender wife or lover who spends her days being fucked by her rich boyfriend."

Well. That was refreshing. Can we have another moment?

"Fashion is not fashion anymore. I am sure of this, but nobody realises this because the world is full of romantics like me — people who continue to believe in it. Now "fashionable" can mean anything. Everything is fashion. Anything can become fashion. A while ago, things were more elitist, and this allowed it to be more aspirational and directional, and this would inspire others. It might have even – to use a horrible term — "taught" others. Nowadays, what can you teach? I might make a collection in flannel, and then the next guy makes a collection using technical see-through nets. If somebody doesn't know much about fashion, what can he draw from this? What can he learn? It makes no sense! He can't use fashion as a road map, he's lost. Nowadays, it's all business.

The other problem is that fashion, as a system, is very insular and introverted. We constantly recycle the same concepts and express them through the same modes of representation. The moment you start making videos or move off the catwalk, most journalists will have no fucking clue what you're doing because they don't have the time, willingness, or culture to really understand something new. You'll be misunderstood, and you'll have no choice but to return to doing the things that follow the language everyone understands."

[Vice]