Victoria Beckham, occasional Spice Girl and current fashion designer, wrote an open letter to her 18-year-old self for the February issue of British Vogue. After discovering this, I smiled and clicked on a link to the story with the hope of reading something that would give me a laugh.
But I didn't laugh! I got a little wistful, and, by the end, a little moved. Though occasionally far from relatable (at one point she writes "Spain is also where you will lay the foundations for your own fashion brand by collaborating with others on denim and sunglasses"), Beckham's letter is filled with lovely and oddly affecting ruminations on fame, youth, love, and memory. How rude of me to doubt her.
Here's Beckham on a failed audition from her youth:
Do answer an ad in The Stage, looking for candidates to form a new girl band. Line up around the block and audition to change your life. You love musicals – Miss Saigon, Cats, Starlight Express and Les Misérables – so you will perform "Mein Herr" from Cabaret, while everyone else sings a Madonna song. You haven't yet heard of the internet or electronic mail or smartphones. Nor have you perfected the art of the selfie for Instagram (you can't even turn on a computer right now, and Dad still drives to London to send a telex). But one day you will find that audition performance again online, and at the same time discover that your name brings up 47,800,000 search results on Google.
And here she is on embracing the stress from touring the world as a Spice Girl:
There will also be down days and bad days. You will often be so busy that you will be in a different country every day. And being young and a bit silly, you'll complain and sit in hotel rooms and moan about being tired. Go out and see the country where you are. If you don't join the Spice Girls, you might always be that insecure person in that little shell, and you will never become who you truly are.
G/O Media may get a commission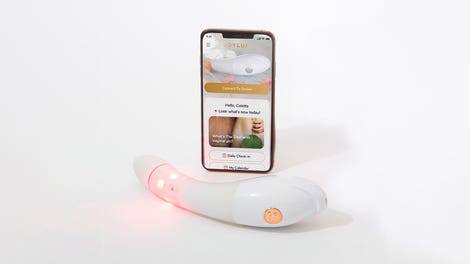 $50 Off
Joylux vFit Gold Device
And my favorite section, in which she regrets not keeping a diary:
You will travel on private planes, visit incredible countries, stay in fantastic hotels. (At the beginning, you will steal the hotel mini shampoos, shower gels and conditioners, but you soon realise that they leak in your suitcase—often disastrously.) You will storm into people's offices, leap on to tables in hotels and go crazy (although you will also be the one checking that the table isn't going to collapse). You will meet Nelson Mandela, Mariah Carey and Elton John. But please, I implore you, keep a diary. There will be so many amazing moments, and you will forget.
Perhaps you might roll your eyes at the letter's self-indulgence, and think it's a little much to read a letter from a rich, successful, beautiful person telling her younger self that it will all be just fine, but something about it worked on me. What a nice surprise.