On the day after Christmas, what better topic for Spencer Ackerman and I to discuss than the use of Viagra as a weapon of mass construction? Now, with a special appearance by Boyz II Men.
SPENCER: How was your Christmas? I had my first real Christmas dinner yesterday afternoon, which led to a fun moment where Yglesias and I were too full and too drunk at 7:15 to do anything more than watch our train back to DC from Silver Spring slither away.
MEGAN: D'oh, from the outdoor platform, too! Gifts were exchanged, we had both Christmas breakfast and Christmas dinner, I believe our family consumed 4 bottles of wine and then we plugged my computer into my parents' new flatscreen and watched Holiday Inn starring Bing Crosby and Fred Astaire (since there was nothing on TV) in which, it turns out, Bing Crosby and partner appear and sing in blackface about Abraham Lincoln. It was, um, worse than the time I watched The Crying Game with my mom and got to the full-frontal scene.
SPENCER: hahahahaha I saw that with my seventh-grade girlfriend in the theaters. Quick question, junior-high-aged readers: should you be turned on by that?
MEGAN: I mean, as a dude in the 7th grade, doesn't like a stiff (pardon the pun) breeze turn you on? (Yes, I can hear you groaning at that pun from here.)
G/O Media may get a commission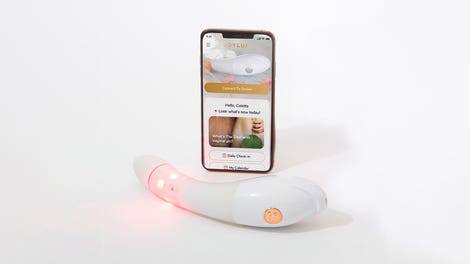 $50 Off
Joylux vFit Gold Device
SPENCER: you now see the dilemma. Transgenderism is supposed to be a bridge too far. It was an awkward moment. And to think, we paid to see The Sandlot in order to get in to the movie theater at the Kings Plaza mall.
MEGAN: The movie theatre in Scotia has one screen, and I don't believe they ever showed it. They did, however, refuse my friend Melanie and I entry to Alive in that same period of time, so I don't think I would have gotten in anyway, which explains how I ended up seeing peen in the living room with my mom. I would still rather see peen than Bing Crosby in blackface singing about Abraham Lincoln. But I believe you had a larger point to make about erections.
SPENCER: Right you are. Lest anyone consider our CIA hidebound and uncreative, let's extend to them a Christmas best-wises by noting their ability to weaponize Viagra in Afghanistan:

"Whatever it takes to make friends and influence people — whether it's building a school or handing out Viagra," said one longtime agency operative and veteran of several Afghanistan tours. Like other field officers interviewed for this article, he spoke on the condition of anonymity when describing tactics and operations that are largely classified.
You can't officially acknowledge that part of the passel of counterinsurgency methods employed in the Afgh are dick pills. But what do you think of this idea?
MEGAN: Ok, well, my first thought is that, as a woman, I lack a significant level of insight into this. I like sex. I like it alot. I am rather annoyed at this particular moment in time that I have not had any recently — though we know my definition of "recently" can be a little off — BUT I cannot see selling out some sort of sense of political principles or whatever in order to regain the ability to self-lubricate, say. So, riddle me this, my penis-owning friend: is getting erections really that universally important to men?
SPENCER: Wait, first things first. (A more-complicated-than-you-might-think answer to your question will follow.) You think the tribal chieftains are compromising their integrity by accepting CIA Viagra?
MEGAN: Well, are they? I mean, that's sort of the premise of the bribe, isn't it? That without erections they would support the Taliban fighters?
SPENCER: Not necessarily support, but remain on the fence. In other words, the absence of active inducements, resonant to the immediate needs of a given cohort as they themselves perceive those needs, leads to a tribal/popular indifference to U.S./Afghan government efforts that objectively benefits the insurgency. It may be the case that dick pills are what flip a tribal chief's loyalties, but I don't think that Taliban allies are the primary intended cohort for this program. Though when you think about it, ED medication probably stands a better chance of being the lever that changes someone's allegiance than anything else
MEGAN: Ha, you said "lever." We have not made nearly enough dick jokes yet.
SPENCER: And that's probably a good lead-in to answer your question. The short answer is yes-but. Let's say you've got an ideologically committed warrior. Someone who could fairly be called a fanatic without implying a value judgment. His cause and his code are central to his sense of identity. If that man has erection trouble, he'll find a way to compartmentalize the immediate problem and transfer his frustrations to his battlefield activities. Most likely. Remember, the point of ideological rigidity is to provide a framework for explaining away life's rich tapestry of horrors and miseries. Suffering becomes redemptive and therefore should be embraced.
MEGAN: So, if you can replace ideological rigidity with biological turgidity, men loosen their grip on ideology?
SPENCER: But if you don't have that heuristic, then impotence is devastating to your masculinity. OR SO I AM LED TO UNDERSTAND. Sexuality is a naturally important component of identity, and as this invaluable blog has documented so well for so long in so many creative ways, masculine potency is overwhelmingly socially rewarded. To lose that potency is to become unmoored in a profound way. OR SO I AM LED TO UNDERSTAND.
MEGAN: I love how you feel it necessary to have this conversation while repeatedly reminding us all that your cock is in perfect working order. I will hereby stipulate that there is nothing currently wrong with, nor has there ever been anything wrong with, your ability to get and maintain an erection.
SPENCER: Now add to that unmooring the fact that in a tribal society your visible demonstrations of potency are directly tied to your power. Having multiple wives is problematic for a variety of reasons that we don't need to go into, but among them: what happens if you take multiple wives as a demonstration of socially-valuable potency and you can't impregnate them? Or, less dramatically: you simply can't provide for them sexually? Or for yourself? The involuntary interruption of sexual routine — much of it surely self-imposed — must be devastating. And there CIA really does seem to have a ready-made and profound pharmaceutical solution.
MEGAN: I think, too, when wives are only an extension of a man's social status and the purpose of having sex with them is to impregnate them and/or prove one's social status, probably their sexual needs don't really come into it.
SPENCER: So what should we understand to be the anticipated effects on Afghan women of this Viagra-based counterinsurgency effort?
MEGAN: Well, one could argue that by supplying the aging warlords with Viagra, you are depriving their wives of a needed and biologically expected semi-permanent respite from performing unwanted sexual acts that would otherwise be forced upon them. In the interests of fairness, I suppose its possible that these warlords attempt to treat their wives with the utmost care and respect and provide them with sexual satisfaction instead of using them as living, visible extensions of their power over people that the warlords can additionally stick their dicks into.
SPENCER: But that's not where we should take this discussion! Are we in a situation where the expected consequence of the CIA Viagra program is marital rape? Should everyone who isn't Dennis Prager find this problematic?
MEGAN: Well, are we in a situation where we would deny that such is a possibility? I don't think we make good policy by ignoring the consequences, nor am I saying that giving the dudes Viagra is not preferable to giving them, say, weapons. But is it possible that we're providing them with the means to force themselves on their wives (who likely had no choice in being their wives) that nature has otherwise denied them? Yes. Plus, I did have to go find a way to relate it to women's issues.
SPENCER: But they're not just women's issues. The whole picture is supposed to add up to the question of what sort of Afghanistan is to emerge from the Taliban/Karzai power struggle. Can the U.S. accept an Afghanistan with increased (admittedly my assumption) levels of rape as an unintended-but-forseeable result of its efforts?
MEGAN: Is there a country we were really planning on leaving in better shape? Were there people that really thought that with Mullah Omar out of power the women of Afghanistan would shed their burqas and take to the universities? Oh, right. There were. Also, we were going to be greeted as liberators, right, and showered with flowers and crowds singing "Let the Sunshine In," right?
SPENCER: The painful thing is that in Afghanistan we were greeted as liberators. It was precisely that experience that led so many to overlearn and misapply the fact of Afghan antipathy for the Taliban to, say, being treated the same way in Iraq. Or to convince people that early glee from Afghans who could, like, see a movie now and again in Kabul would substitute for basic human needs for functional governance and security and economic opportunity.
MEGAN: Viagra probably won't do it either, then.
SPENCER: But the broader point is just saying that the U.S. fucks everywhere on the planet up isn't a substitute for avoiding similar fuckups in the future, and that leaves us with the nested problems of dick pills for Afghan tribal figures.
MEGAN: My issue with it is that the CIA and the operatives handing out the dick pills likely gave little or no thought to the consequences of doing so for the women involved.
SPENCER: Right, but now that we've got that covered: what should we do next? Stop the program?
MEGAN: Well, I'm not exactly one to go around advocating marital rape. Nor are — one assumes — operatives on the ground in any position to survey the wives of the warlords to determine whether the dick pill sex is consensual or wanted. Nor do the women in question have the vocabulary — culturally speaking, that is — to likely describe the sex as coercive or forced. In a society in which wives are expected to submit to their husbands and sex is not intended for their benefit or pleasure, nor are their moods or desires taken into account, they probably wouldn't consider a formerly impotent husband with a handful of Viagra and some impotent time to make up for much more than their unlucky lot in life. And, if the benefit — as you stated above — is not only that the formerly impotent husband doesn't take said impotence out on our troops but also refrains from taking it out physically on the wives, are they substantively better off being unhappily sexed than physically beaten? The fact that women in America have those choices and the freedom to think about them is a great thing, and handing out or not handing out Viagra to impotent warlords doesn't give Afghan women those choices or freedoms. Nor does allowing a Taliban or al Qaeda-led insurgency to win back the government. But that doesn't mean that our choices should remain unexamined.
SPENCER: And who expects Crappy Hour to answer these questions, anyway? Providing a framework for approaching this shit is, as you Gawker employees like to say, "servicey" enough. Which is probably a good way for me to say goodbye to yesterday. Thanks for letting me do this every now and again, Megan (and Anna. And Moe). It fucking blows that this feature is going to die, since I read it every morning that you & Moe wrote it and thought how cool it would be if I took part in it, and you guys plucked me from the minor leagues, so thank you for that. And I look forward to reading it every day next week, however bittersweet it'll be. Womanity: we'll see each other soon enough since, as a wise woman once said, you're not rid of me.
MEGAN: Aw, damn it, now I have that damn Boyz II Men song in my head.


But you were never minor league.
SPENCER: Maybe I overuse it. And awwwwwww. Bye CH.
MEGAN: Sniff. I will really miss doing this with you.