Venture capital isn't necessarily an easy field to be a woman in, seeing as it's a world dominated by men. But one well-known firm, Kleiner Perkins Caufield & Byers, has been seen as being slightly more receptive to women joining its ranks. It was one of the first VC firms to hire female partners, and it now has more than almost any other firm. But its reputation for being female-friendly is about to go out the window, thanks to a new sexual harassment suit filed by one of those partners, Ellen Pao. In the complaint, she paints a picture of a place that is exceedingly hostile and systematically excludes women from opportunities critical to advancing their careers. Maybe it's not a surprise, but it's certainly a disappointment.
Pao (who's seen above, with two of her colleagues) joined KPCB in 2005 and was viewed as a rising star in the company. But while she was busy working her way up through the ranks, she was also forced to contend with a lot of sexist bullshit. On a personal level, she's alleging that former Kleiner partner Ajit Nazre made a series of sexual advances toward her. He initially hit on her during a business trip to Germany, where he was technically supervising her. She rejected him, and he got "brusque and distant," according to the lawsuit. He continued to pressure her into having a sexual relationship—even making the classy move of lying to her and telling her his wife had left him. Eventually, she gave in and ended up sleeping with him a few times, but when she tried to end it, he didn't handle it well and started doing very mature things like leaving her off of important email conversations and not including her in meetings. This and other malicious behavior continued for over five years. Nice. She complained numerous times to the senior partners, and she got a variety of very interesting responses.
One partner told her to marry Nazre. What a terrific idea! History is brimming with examples of women who've married their sexual harassers and things have worked out just great. Because if he can't handle basic sexual rejection without lashing out, just think what a warm, loving husband he'd be. Ick. But another equally bad suggestion that was made to Pao was that she transfer to China to remove herself from the situation. Yes, that makes sense that when someone else is behaving like a pig, the victim of said piggish behavior should be forced to uproot her entire life and relocate to an office that's half a world away.
That wasn't the only incident Pao experienced. She also received a book of sexually explicit poetry for Valentine's Day from another colleague. Ahh, yes, the giving creepy Valentine's Day gifts to your coworkers is a classic American tradition... Come on, guys. It is the 21st century. When are you going to knock this shit off? There was also an instance where another female partner complained of being harassed by Nazre and several administrative assistants also had problems. Yet the senior partners each time did nothing, even promoting Nazre.
That fits with what Pao says was a larger anti-woman attitude at the firm. The lawsuit details an environment where women were intentionally left out of important business meetings, given fewer board seats and investment sponsorships than their male colleagues, and given a smaller percentage of the profits. Pao tells the story of two all-male dinners that partners organized with executives from Kleiner-funded companies and other important guests. In case you thought maybe the all-male part was an unfortunate coincidence, think again. Partner Chi-Hua Chien explained that women weren't invited because they would "kill the buzz." Oh, well, isn't that a lovely way to treat your hard-working colleagues. Grrr.
G/O Media may get a commission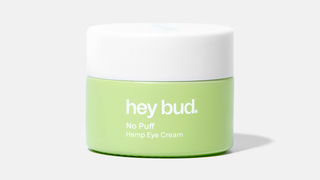 15% off
Hey Bud - No Puff Hemp Eye Cream
Pao finally had enough of being harassed and left out, so she sued, asking to be compensated for lost pay and bonuses and also for punitive damages. She's also asked for a court order to prevent further sexual harassment and discrimination at the firm. For their part, KPCB obviously denies that there was any wrongdoing. A spokeswoman says, "The firm regrets that the situation is being litigated publicly and had hoped the two parties could have reached resolution, particularly given Pao's seven-year history with the firm." Hmm, maybe it would have been good to consider that seven-year history when deciding what to do about the fact that she was being actively harassed by one of her colleagues? Just a thought. It remains to be seen whether Pao's lawsuit will change anything, but at least she's gone public and is shining a light on the very bad practices of a very prominent firm.